Managerial chaos turning once-mighty Leeds into a laughingstock under eccentric Italian owner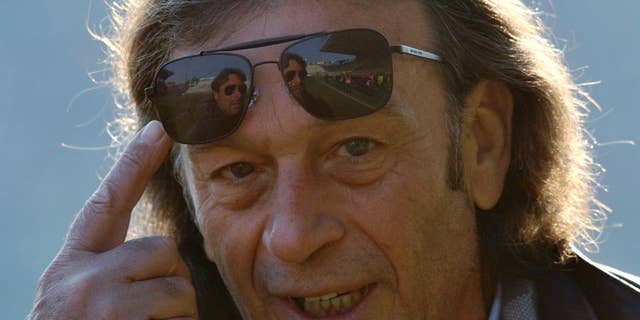 Hours into his tenure as the latest Leeds manager, Neil Redfearn was watching the team lose when he heard the inevitable chant from opposition fans.
"Sacked in the morning," came the cry around Cardiff City Stadium, "you're getting sacked in the morning."
It's a playful chant serenaded to losing coaches across the length and breadth of England on most weekends, and it's rarely taken on face value.
On this occasion, though, there could have been an element of truth about it.
And that just about sums up the sad state of Leeds United — a proud, once-mighty northern English club that is now widely regarded as a laughingstock operating on the merciless whims of an eccentric, maverick Italian owner.
Massimo Cellino — with his sunglasses and slick, graying hair — breezed into Elland Road in April when his company, which already owned Italian side Cagliari, bought a controlling stake in Leeds. This was the biggest football team in England in the late 1960s and early '70s in the era of Johnny Giles and Billy Bremner, the league champion in 1992 when Eric Cantona starred up front and a Champions League semifinalist only 12 years ago.
The past decade at Leeds had been scarred by financial chaos and mismanagement, though, and the club had slipped down the English league pyramid. The larger-than-life Cellino arrived as the latest savior, saying of the fans: "They've had to put up with 10 (expletive) years. I want to make them proud again."
Problem was, he also arrived with baggage. He had been convicted in Italy of tax evasion, a ruling he is still appealing, and was known in some circles as a "mangiallenatori" — the Italian word for a "manager eater" — after making 36 coaching changes in 22 years at Cagliari.
English football now understands why he earned that moniker.
Brian Clough's notorious 44-day reign at Leeds in the mid-1970s seems like a lifetime in charge compared to the rate Cellino is going through managers.
A month after taking over, Cellino fired Brian McDermott, widely regarded as one of English football's "good guys." Rumors had been spreading during the takeover process, which was drawn-out because of Cellino's tax issues, that McDermott was on his way out.
Bizarrely, Cellino chose to pluck the replacement for McDermott out of the English non-leagues. Dave Hockaday seemed to be out of his depth and a puppet for Cellino.
"Coaches are like watermelons," Cellino said at Hockaday's presentation, "you only know how good it is when you open it."
Hockaday lasted six games of this season before he was fired, ending one of the strangest managerial reigns of recent times.
Darko Milanic was the next full-time appointment and another to arrive out of the blue, from Austrian side Sturm Graz. Hired on Sept. 23, Milanic, from Slovenia, was fired after 32 days and did not win any of his six games in charge.
Redfearn, who took temporary charge between the Hockaday and Cellino "eras" after being promoted from the academy, was hired as Cellino's fourth manager in five months on Saturday. Leeds lost to Cardiff 3-1 that afternoon to drop to sixth from bottom in the second-tier League Championship.
"I remember in Italy my dad sacked seven coaches in one year and one before the season had even started," Cellino's son, Edoardo, said last week. "This is not a record."
English football is awash with clubs owned by foreigners, some more reputable and savvy than others.
Blackburn, for example, was an established Premier League team before being taken over by Indian poultry firm Venky's. They talked about signing David Beckham and Ronaldinho and returning to the heights of 1995 when the team won the English league. Instead the club was relegated within 18 months and spiraled into chaos, with four different managers in an eight-month span in the second-tier League Championship the following season.
Fulham is another traditional English club whose fortunes have tumbled since it was put in the hands of an owner with apparently more money than sense. Under American businessman Shahid Kahn since July 2013, Fulham lost its Premier League status within a year and has just hired its fourth coach in 10 months.
Critics of Cellino say he is acting disgracefully and is damaging the reputation of one of England's great clubs. And, considering his conviction for fraud, they still wonder how he passed the owners and directors test used by the Premier League and Football League to assess who can and can't run a club.
"I think the best thing he could do is get out of the club," said Giles, a midfield great for Leeds in its glory days. "It's crazy stuff."
Despite his eccentricities, however, Cellino could yet be a force for good at Leeds.
He at least has experience of owning a football club and turned out to be a success in his 22 years at Cagliari, establishing the Sardinian team in Serie A.
It is hard for Leeds fans to trust any owner of their club after the troubled tenures of Ken Bates, the outspoken former Chelsea owner, and Bahraini-based investment bank Gulf Finance House, which preceded Cellino. But, perhaps in desperation, they appear to have warmed to the Italian, who has stood among Leeds supporters during away matches and has injected enough money and commitment into the club to suggest he is in it for the long haul.
The way it's going, though, he might just decide to do the coaching himself.
"I used to have a boat. I used to pay the captain of the boat," Cellino says. "You know what my strategy was? If he doesn't do what I like to do with my boat, then I can drive my boat on my own."
Redfearn has been duly warned.