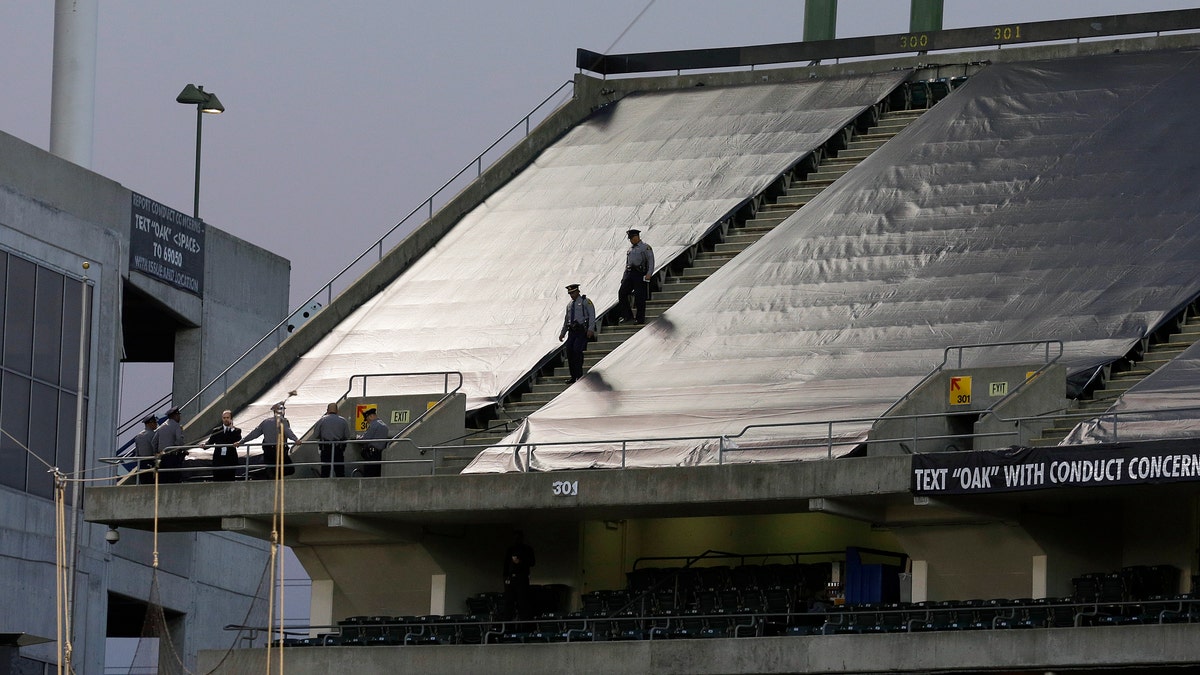 OAKLAND, Calif. – When he saw a woman jumping from the upper deck at the Oakland Raiders' stadium on Sunday, Donnie Navidad said his military instincts immediately kicked in as he lunged forward trying to catch her.
But though he was injured in the process and authorities say he saved the woman's life, he maintains that he's no hero and that he would do it again.
"I just wished I would've grabbed her and held on to her," Navidad said. "I couldn't live with myself if I didn't do anything."
Both Navidad and the woman hit the concrete hard from the impact about 15 minutes after the Raiders' 23-19 loss to the Tennessee Titans.
Navidad said he was among several people pleading with the woman not to jump as he positioned himself to try catching her. When she plunged about 45 feet from the upper deck at the O.co Coliseum, Navidad, with his arms open, ended up breaking her fall.
The 61-year-old Marine Corps veteran was hospitalized overnight and was recuperating from a severely bruised arm at his home in Stockton.
"He simply saved her life," Alameda County sheriff's Sgt. J.D. Nelson said. "Otherwise, she'd be dead."
The woman remained hospitalized in critical condition. Her name has not been released.
A Raiders season ticket holder, Navidad said he was with a buddy lingering near the Al Davis commemorative flame at the Coliseum when he saw and heard the commotion around the woman, who was on the ledge in the upper deck concourse area that's covered by tarp.
"I yelled up at her yelling, 'Don't do it, don't do it. Please don't jump,'" Navidad said. "And she started to descend and she let herself go."
Navidad said his military instincts kicked in as he lunged toward the woman trying to catch her.
"He couldn't grab and hold her, and that's what bothers him," his wife, Lora Navidad, said Monday. "He had no fear or thought for his own well-being."
Navidad said well-wishers have besieged him, including Raiders' hall of fame cornerback Willie Brown, who visited personally. Team officials came to his home, and he received a phone call from Hall of Fame wide receiver Fred Biletnikoff.
Nelson, who visited Navidad in the hospital Sunday evening, called him "a hero."
Navidad, a father of four with 12 grandkids who works as an inventory surveillance worker for the General Services Administration in nearby French Camp, Calif., modestly thinks otherwise.
"They want to label me a hero, but how do you define a hero?" Navidad asks. "I would've done it for anybody."
He plans to be at the Raiders' next home game against the Kansas City Chiefs on Dec. 15.
The incident in Oakland was the second such fall at an NFL game Sunday. In Baltimore, a 48-year-old man was hospitalized with life-threatening injuries after he fell on some stairs at M&T Bank Stadium during the Ravens game against the New York Jets, authorities said.
Last weekend, two fans were injured in Orchard Park, N.Y., after one fan slid down a railing from the upper deck of Ralph Wilson Stadium during the Buffalo Bills' home game against the Jets. Both were briefly hospitalized and released.
On the NFL's opening day this year, a fan died from a fall off a pedestrian overpass outside Candlestick Park in San Francisco, and two others were injured when a railing collapsed at the Colts' game against the Raiders in Indianapolis.