Mailbag: Would Louisville and Lamar Jackson shred Alabama?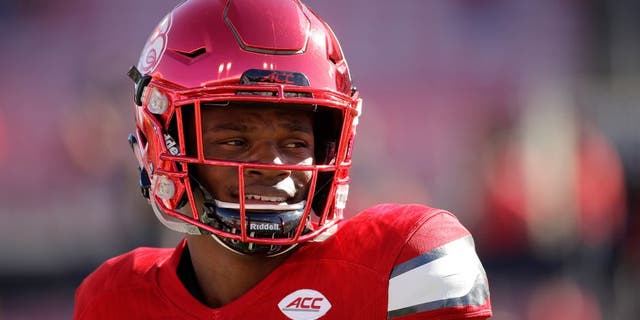 In my experience, there are three things college football fans simply can't get enough of: Conference realignment rumors, coaching carousel rumors and wild hypotheticals.
This week's Mailbag goes heavy on the third one.
Stewart: If there are two things college football fans can agree on, it's that Alabama's defense and Lamar Jackson are both unstoppable. If by some miracle we were to be rewarded with this dream matchup, who would come out on top? Could Lamar Jackson crack the code to Bama's D, or would it be business as usual for the Tide?
-- Justin Barrow, New Bern, North Carolina
First, let's pause for a second to appreciate how amazing this matchup would be if it came to fruition. But let's also accept that it's highly unlikely. Either Louisville is going to have to win the ACC and make the playoff, or Alabama is going to have to slip to the Orange Bowl.
In other words, this is purely a fantasy.
I wouldn't say either is "unstoppable." Clemson stopped Jackson enough times to win a football game, and Ole Miss scored 30 points in the first half against the Tide. Certainly both are aberrations to this point. Also, we know QBs with running ability have been the rare Kryptonite for past Nick Saban teams, most recently Deshaun Watson in last year's national title game. Jackson is the most lethal runner of any quarterback in a number of years.
But ultimately, I'd take Alabama. Clemson was able to get pressure on Jackson, sacking him five times, and the Tide, which have a national-best 32 sacks, would likely generate as much if not more. Jackson eventually got going, but Clemson was also its defense's own worst enemy that night, with its five turnovers allowing the Cardinals to run 99 plays. Alabama has lost 12 turnovers in eight games.
I'd still love to see the matchup, though. Jackson's superb playmaking ability is reminiscent of Johnny Manziel's, and we know the headaches he caused Saban's teams. But this is also Saban's fastest, most athletic defense to date, much better suited to stopping spread QBs. It'd be a lot of fun to watch.
Hi Stewart: After Ohio State's loss, you mentioned in tweets and in your updated Top 10 that Michigan has only played one road game, against lowly Rutgers. My question is, broadly, how do you value home-field advantage and factor that in to your view of teams? Different methodologies have indicated that home field accounts for around 3 to 6 points on average. Most of Michigan's wins at home this year have not even been remotely close.
-- Navin, Cal '02, Michigan '04
That's a good question. But my answer isn't going to be as scientific as you might be hoping for.
The methodology you're citing is mostly used in determining point spreads. For example, in Jeff Sagarin's latest ratings, Michigan is about 2.5 points higher in his " predictor column" than Ohio State, plus he values home advantage at 2.42. So using his system, the Wolverines would be about a five-point favorite over the Buckeyes in Ann Arbor, a pick 'em in Columbus.
But I brought up the home-road discrepancy more to point out just how disparate the teams' schedules were to this point and how that may distort our perceptions of the two rivals. Michigan played Penn State and Wisconsin at home in back-to-back weeks and beat them 49-10 and 14-7, respectively. Ohio State played the Badgers and Nittany Lions in back-to-back road night games, went to overtime in one and lost the other by three points. Some will understandably look at those common results and conclude Michigan is much better than Ohio State.
In reality, we have no idea what the outcomes would look like were the circumstances reversed. How did getting back from Madison at 5 a.m. on a Sunday affect Ohio State's preparations before traveling out again on Friday? How much did Wisconsin and Penn State benefit from bye weeks before playing the Buckeyes? And how do we know whether Michigan QB Wilton Speight and the Wolverines' offensive line would handle the environment at Camp Randall or Beaver Stadium better or worse than J.T Barrett and the Buckeyes did?
So it's not as simple to me as saying, well, Michigan beat Penn State by 39 points in Ann Arbor, therefore they'd only win by 33 in State College.
It may be that Jim Harbaugh's team -- which is vastly more experienced across the board than Urban Meyer's -- would be completely unaffected by playing on the road. Its No. 1-rated defense may be so dominant that it doesn't mater where they play. It may be that the Wolverines will go to Columbus and beat the Buckeyes handily. I have no idea. I just think people flooding the Wolverines' bandwagon right now and fleeing the Buckeyes' aren't taking some important variables into account.
Hi Stewart: Very, very long-time reader and diehard Penn State fan here. I do not want to get knee-jerk here, but after enjoying everything on Saturday night it is clear that James Franklin will not be on the hot seat anytime soon. I feel like this one signature win did more to help the program than anything else in the past few years. Is it fair to say that all of a sudden the future looks extremely bright?
-- Ed Haft, Hoboken, New Jersey
First of all, Franklin was never on the hot seat. It felt to me at times that Penn State fans wanted so badly to put the NCAA/Jerry Sandusky saga behind them that they refused to accept how badly the sanctions affected their roster. Maybe a different coach would have done a better job developing Christian Hackenberg or pulled off an upset or two sooner, but I don't believe Nick Saban would have produced much better than seven wins with severely reduced recruiting classes.
Saturday was huge, no question about it. Penn State fans finally got something to celebrate, and Franklin now has tangible proof the program is progressing. The future is bright, as long as people don't get completely carried away by one isolated result. Beating Ohio State does not mean the program is now at the Buckeyes' level. If not for one incredibly rare play -- returning a blocked field goal for a touchdown -- we'd be talking today about a 4-3 team.
But with a highly manageable schedule the rest of the way -- at Purdue, home against Iowa, at Indiana and Rutgers, home against Michigan State -- the Nittany Lions have a chance to finish the season with nine or 10 wins and finish as a ranked team for the first time since 2009. That would be a big deal, and it would give Franklin something palpable to sell going forward.
Good afternoon Stewart. It seems the AP poll is still very high on Ohio State, which only fell to No. 6. The Buckeyes are even ahead of some Power 5 UNBEATENS! If there is an undefeated Big 12 champion, but Ohio State beats Michigan in "the game" and wins the Big Ten championship, who would the committee most likely award the fourth spot to assuming 'Bama, Washington and Clemson win out?
-- Brad C., Matagorda, Texas
With the committee meeting for the first time next week, we've hit the inevitable stage where the Mailbag will start filling up with "scenario" questions, and I want to use this one as an opportunity for a couple of public service reminders.
A) This is college football. Never assume anyone's going to run the table.
B) THERE WILL NOT BE FOUR UNDEFEATED POWER 5 CHAMPS.
Why so adamant about the second part? Because college football fans seem to suffer annually from a case of collective amnesia. A few important facts to remember:
* Not once in 18 seasons of the BCS and CFP have four major conferences produced an undefeated champ.
* Only twice were there even three (2004 and '09), and one of those involved the now-defunct Big East.
* And as I wrote before the season, half of the Power 5 champs from 2006-13 had at least two losses.
So not to be flippant, but the answer to this question is, if Ohio State is a 12-1 Big Ten champ, it won't be stealing an undefeated team's berth. There will be room regardless.
Hi Stewart: After Saturday's game against Clemson, FSU will have faced five QBs -- Ole Miss' Chad Kelly, Louisville's Lamar Jackson, UNC's Mitch Trubisky, Miami's Brad Kaaya and Clemson's Deshaun Watson -- projected to be early-round draft picks in the next two years. Can you recall a team that faced better QB talent in a single season?
-- Mark from Las Vegas
No question, that's a murderer's row, but I can't even recall my Netflix password, much less college teams' opposing quarterback lineups from 2013. Someone will have to help us both out.
Hey Stewart: With the turnaround Mike MacIntyre is having at Colorado in Year 4, do you think maybe it is still best to give a coach four years to turn things around at the university they work for? Does all this talk of firing someone like Charlie Strong after Year 3 (or even Year 2 at point) seem a little too soon?
-- Sam, Auburn, Alabama
I think that's a great idea -- if coaches were elected officials with a predetermined job span. Imagine if everyone went in knowing the guy was going to be in office four years no matter what. (Though I wouldn't put it past Texas fans to try impeaching the coach.) After the first four years, the fans hold an election to decide whether or not to give him another four years. There'd still be pressure, obviously, but enough leeway for everybody to be more patient.
Back on planet earth, though, it's just not realistic. First of all, both the expectations and scrutiny at Texas are much higher than at Colorado. The stakes are higher, too. There's a 100,000-seat stadium to fill. There are billionaire boosters to appease. There's even a cable network devoted entirely to the Longhorns, which can only rerun the 2006 Rose Bowl so many times.
And in this specific situation, Colorado had ample reason to be patient with MacIntyre. He walked into a massive rebuilding situation after his predecessor, Jon Embree, lasted just two years. CU was never going to recover quickly from going 1-11 in 2012. And while it was reasonable to expect better than 4-9 by MacIntyre's third season, anyone who watched the Buffs play could see their progress. They were no longer getting blown out every week, but rather, they were losing 35-31 to UCLA and 27-24 to USC.
Conversely, Texas is performing no better today with mostly Strong's recruits than it was two years ago with mostly Mack Brown's. Which is not to say the 'Horns couldn't be much better by Year 4 -- I assume they will be -- but at this point the angst around the program is so high and the criticism so loud that it's probably better for all involved to start anew.
Overall the playoff has been a good thing, but the Penn State-Ohio State game was an example of where the warnings by the playoff naysayers of a diluted regular season came true. As a neutral observer, the game's final minutes were enjoyable but not particularly suspenseful knowing that the outcome didn't really matter. Either Ohio State beats Michigan and the Big Ten West champ to earn a playoff spot or they don't -- same as if they'd won.
-- Troy, Hampton, Virginia
That's true, save for one longshot Big Ten tiebreaker scenario. One consequence of the playoff is that very few individual games are going to carry the do-or-die stakes that they did in the BCS. One upset does not necessarily shake up the entire picture (though, as I wrote Monday, that depends in large part on who you lose to). And for people who appreciated that aspect of college football pre-CFP, I'm sure many of these September and October games feel anticlimactic.
The tradeoff, though, is that more games matter later into the season.
When I think about the differences between the two systems I often refer back to the 2012 season, when the BCS's top two teams, Kansas State (vs. Baylor) and Oregon (vs. Stanford), got knocked off by heavy underdogs on the same mid-November night. It was peak BCS chaos. But it also meant that only two games the rest of the way, Notre Dame-USC and the Alabama-Georgia SEC championship game, carried national title implications.
Were that same season in play today, neither K-State nor Oregon would have necessarily been knocked out, but at least nine different teams would have gone into those last two weeks with playoff hopes still alive. To me that's a worthy tradeoff.
Stewart: In the history of I-A/FBS competition, has a school ever played in a bowl game, then been relegated to a lower level just two seasons later? If not, 4-4 Idaho could be the first, with its Sun Belt and FBS membership expiring after 2017.
-- Dave, somewhere
Again, I'm flattered that some of you think I'm a walking Wikipedia of college football trivia, but I have no idea the answer to this. It does seem highly unusual. Go Vandals.
Hi Stewart: If you were West Virginia coach Dana Holgorsen, would you be in any rush to sign a contract extension? Or would you let the season play out and see who comes calling in December?
-- James G., Gilroy, California
Holgorsen holds all the cards in Morgantown right now. He and AD Shane Lyons have been in an awkward holding pattern since the end of last season -- Lyons claimed Holgorsen turned down the school's offer and said there would be no further talks until after this season; Holgorsen has remained silent but did take a veiled shot at Lyons after an early-season win. The prevailing sentiment was that Holgorsen, who went 8-5 last season and entered the year with an 18-21 Big 12 record, was on the hot seat, and that Lyons couldn't wait to get rid of him.
But here we are, with West Virginia 6-0 and ranked in the Top 10. We'll see if the Mountaineers can sustain it, but right now they look plenty capable of winning the conference, with their defense holding foes to 17.8 points per game. Should that happen, or if the Mountaineers fall short of the crown but still go 10-2, there will be suitors. Texas and LSU may well be interested. It's in Lyons' best interest to put a sweet offer on the table before it gets to that point. If WVU keeps winning, Mountaineers fans are going to line up squarely on their coach's side.
What kind of scenario would it take for the committee to select a non-champion over a champion from the same conference? For example, say LSU wins out with a close victory over Alabama, who also goes on to win out, sending 9-2 LSU to the SEC Championship. Tennessee suffers its third SEC loss, clearing a path for Florida even after a loss at LSU. Florida then loses to Florida State, making the Gators an 8-3 team. And Florida then avenges its Hurricane Bowl loss to LSU and ends up the SEC champ at 9-3.
-- John Hayes, Spokane, Washington
So in this extremely imaginative hypothetical, Alabama finishes 11-1, and no other SEC team finishes with fewer than three losses? I think you've found your scenario.
Basically, it would have to be a situation where a non-champion's resume still clearly qualifies it as one of the four best teams, while the champion's is decidedly weaker. A conference championship game upset will likely be involved. In fact, I believed at the time last year that had No. 10 North Carolina knocked off No. 1 Clemson in the ACC title game, the Tigers would have remained above the Heels. And that was with both teams holding the same record.
In the aforementioned SEC scenario, I don't think there's a question 11-1 Alabama finishes higher than a 10-3 champ.
Stewart: Not a question, just a simple exercise. Rank these items from most likely to least likely: Big 12 left out of CFP; ACC left out of CFP; A two-loss conference champ in the CFP; A non-conference champ in the CFP; 4 undefeated teams in CFP; 0 undefeated teams in CFP; LSU coach Tom Herman; Notre Dame coach Les Miles; President Donald Trump.
-- Dave Hiett, Cincinnati, Ohio
If it's OK I'm going to skip down to the three least likely.
3) Notre Dame coach Les Miles
2) President Donald Trump
1) FOUR UNDEFEATED TEAMS IN THE CFP