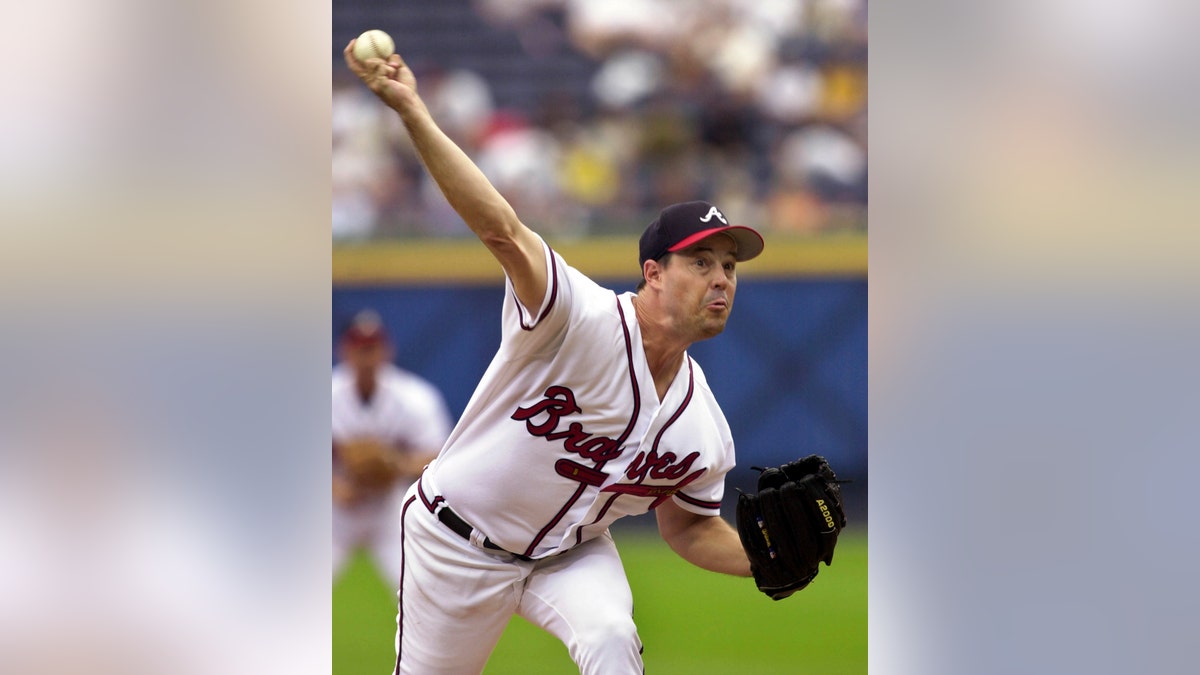 NEW YORK – Greg Maddux, Tom Glavine and Frank Thomas were elected to baseball's Hall of Fame on Wednesday, while Craig Biggio fell two votes short and tainted stars of the Steroids Era remained far behind.
Maddux was picked on 555 of 571 ballots by senior members of the Baseball Writers' Association of America. His 97.2 percentage was the eighth-highest in the history of voting.
Glavine, Maddux's longtime teammate in the Atlanta rotation, appeared on 525 ballots and received 91.9 percent. Thomas, the first Hall of Famer who spent the majority of his career as a designated hitter, was at 483.
The trio will be inducted in Cooperstown on July 27 along with managers Bobby Cox, Joe Torre and Tony La Russa, elected last month by the expansion-era committee. Maddux and Glavine played under Cox for most of their careers.
"It's exciting for me to go in with my teammate," Maddux said.
Writers had not elected three players in one vote since Nolan Ryan, George Brett and Robin Yount in 1999.
Biggio received 427 votes and 74.8 percent, matching Nellie Fox in 1985 and Pie Traynor in 1947 for the smallest margin to just miss. Biggio appeared on 388 ballots in his initial appearance last year and appears to be on track to gain election next year.
Mike Piazza was next was 62.2 percent followed by Jack Morris, who was 78 votes short at 61.5 percent in his 15th and final appearance on the writers' ballot. Jeff Bagwell got 54.3 percent.
Controversy over how to evaluate stars tainted by the Steroids Era continued to impact the vote totals of players with stellar statistics. In their second appearances on the ballot, Roger Clemens dropped from 37.6 percent to 35.4, Barry Bonds from 36.2 to 34.7 and Sammy Sosa from 12.5 to 7.2.
Appearing for the eighth time, Mark McGwire fell from 16.9 to 11.0. Rafael Palmeiro will be dropped from future ballots after falling to 25 votes and 4.4 percent -- below the 5 percent threshold necessary to remain eligible for next year's vote.
Deadspin.com announced Miami Herald columnist Dan Le Batard had turned his ballot over to the website, which allowed readers to vote on how it should be cast.
"I hate all the moralizing we do in sports in general, but I especially hate the hypocrisy in this," Le Batard said in remarks posted by Deadspin. "`I always like a little anarchy inside the cathedral we've made of sports."
BBWAA Secretary-Treasurer Jack O'Connell declined comment.
Eighth on the wins list with a 355-227 record and a 3.16 ERA over 23 seasons, Maddux won four consecutive Cy Young Awards from 1992-95 and a record 18 Gold Gloves with the Chicago Cubs, Atlanta, the Los Angeles Dodgers and San Diego. An eight-time All-Star, he won at least 13 games in 20 straight seasons.
Among pitchers with 3,000 innings whose careers began in 1921 or later -- after the Dead Ball Era -- Maddux's 1.80 walks per nine innings is second only to Robin Roberts' 1.73, according to STATS.
Glavine, a 10-time All-Star and a two-time Cy Young winner, was 305-203 over 22 seasons.
A two-time AL MVP, Thomas hit .301 with 521 homers and 1,704 RBIs in 19 seasons with the Chicago White Sox, Toronto and Oakland.
"This has been a stressful 48 hours," Thomas said in a statement. "This is something that I will have to sit back in the next three or four days and figure it out because you can only dream so big, as this is as big as it gets for me."
Writers who have been members of the BBWAA for 10 consecutive years at any point were eligible to consider the 36-player ballot.
Next year's vote could be even more crowded when Randy Johnson, Pedro Martinez, John Smoltz, Carlos Delgado and Gary Sheffield become eligible, five years after their retirements. The BBWAA last month formed a committee to study whether the organization should ask the Hall to change the limit of 10 players per ballot.