Luke Rockhold to Yoel Romero: 'I'll beat that (expletive) too"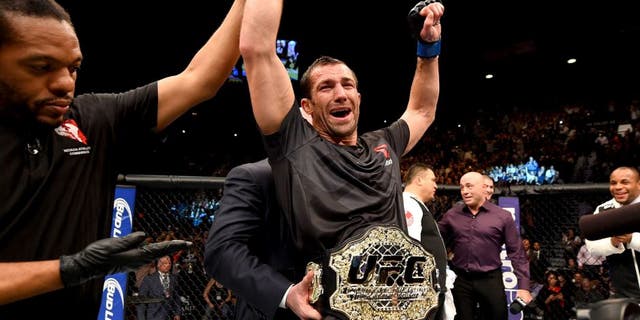 Middleweight champ Luke Rockhold knows there are a line of contenders who all hope to face him, but the person he's asked about most frequently is Olympic silver medalist Yoel Romero.
Following his win at UFC 194 last year, Romero was likely the top contender for the middleweight title, but that claim didn't come without a bit of controversy.
Romero eked out a decision win over Ronaldo "Jacare" Souza that night and then shortly after returned a positive drug test that was flagged by USADA (United States Anti-Doping Agency).
Since that time, Romero has stated that he was the victim of a tainted supplement and plans to contest the USADA ruling, but Rockhold sees this as the latest in a long line of ways the Cuban-born middleweight keeps shooting himself in the foot whenever a title shot draws near.
"Yoel, the guy doesn't do himself any favors," Rockhold told FOX Sports. "Any fight he has. He goes out there and doesn't perform and then he shoots himself in the foot on the mic.
"It's like this is a business, and I'm not going to waste time in my life to fight someone for pennies. Go out there and earn it, make the people want it, let's do it because I would love to shut you down."
Rockhold referenced Romero's win over Lyoto Machida last year that was followed by a confusing diatribe in which he spoke about Jesus, but his words were twisted and his post fight comments got more attention than the biggest win of his career.
Add to that this latest drug testing snafu and Rockhold doesn't seem to buy the excuse Romero made about the tainted supplement.
Regardless of the results, Rochkold would still gladly face Romero in the Octagon if Romero could ever get his act together.
"Obviously, then he gets tested, it's laughable at this point," Rockhold said. "So who knows if he's clean or not, a tainted supplement, we all know the truth.
"Come back cause I'll beat that (expletive), too."