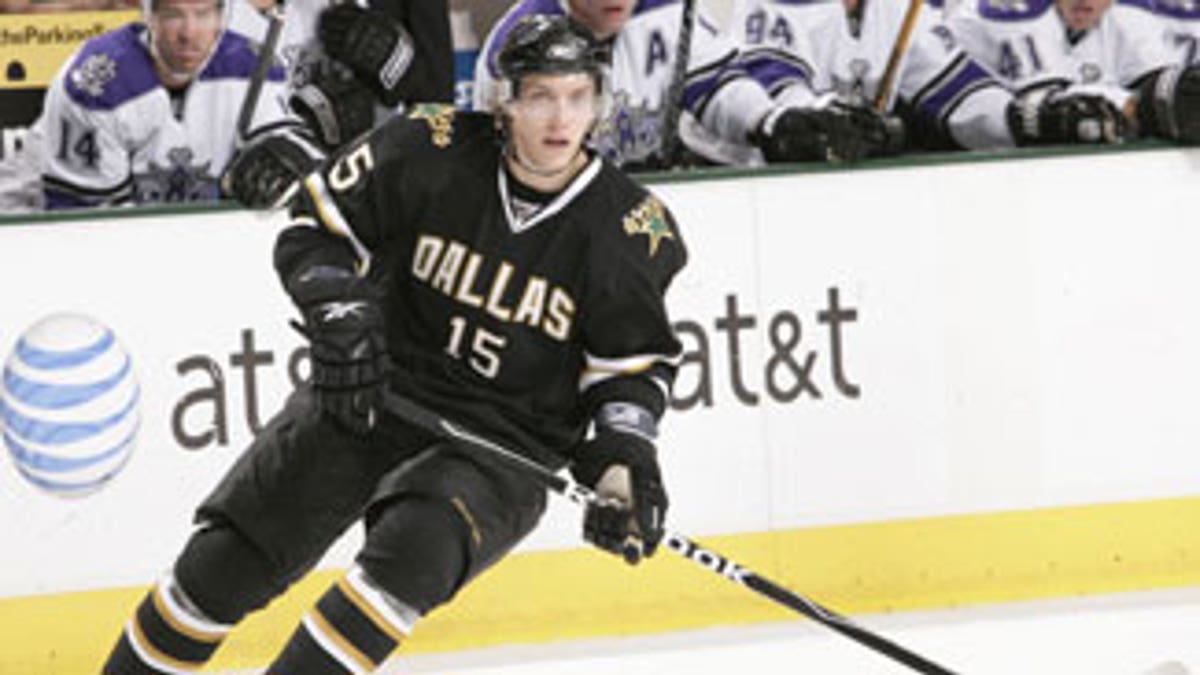 Sometimes the best step in a young player's career is to take a leading role on a European team rather than battle for limited ice time with a National Hockey League club. That has been the case this season for 23-year-old Dallas Stars prospect Perttu Lindgren. A restricted free agent last summer, Lindgren received a qualifying offer from the Stars (the team retains his North American rights), but he elected to return home to Finland to sign a contract with Lukko Rauma.
The move has paid off for the young center, who has received a much more critical role on his Finnish club than he would have had he played with Dallas or with the AHL's Texas Stars this season. With four games left in the 59-game SM-Liiga regular season, Lindgren leads the league in scoring with 64 points (21 goals, a league-best 43 assists) in 53 games. Veteran HIFK forward Ville Peltonen trails Lindgren by one point.
Lindgren especially has been hot as the regular-season stretch drive has wound down to its final few games. Over his last four games he has a pair of goals and 7 assists. He also has averaged over 18 minutes of ice time per game in the club's last seven games, while the team has gone 5-1-1 in that span.
Just as impressively, Lindgren has not had a minus game in the plus/minus column in his last 11 games, dating to a minus-1 game Jan. 25. For the season, Lindgren is a plus-13, tied for second on his club behind his frequent linemate, former Carolina Hurricanes right wing Jakub Petruzalek (plus-16).
"I've been lucky to play with good linemates," Lindgren told YLE. "There is a lot of talent on this team, and you have to give credit to guys like Petruzalek (19 goals), Justin Morrison (21 goals) and Kurtis McLean (54 points) for what they've done this season for the team. It would, of course, be nice to win the scoring title this season, but it's not just one player. We have a good team."
Lukko has already locked up its playoff spot and likely will finish fourth in the regular-season standings. With 92 points, the club cannot catch third-place Assat Pori (111 points), nor is it danger of falling to seventh place and being forced to play a qualifying mini-series to earn a spot in the playoff quarterfinals. However, the team still needs to defend its quarterfinal home-ice advantage on fifth-place Jokerit Helsinki and sixth-place KalPa Kuopio. Both Jokerit and KalPa have 89 points.
Lukko's remaining games will be played at home in Rauma on Thursday against 13th-place TPS Turku, on the road in Helsinki against Jokerit on Saturday, and at home March 8 against 10th-place Karpat Oulu. Lindgren has tortured TPS this season. In four games, he has 3 goals and 9 points, including a 6-point outburst (his biggest single-game output this season) in a 9-3 victory Oct. 23.
Had Lindgren remained in the Dallas organization this season, it's unlikely that he would have had the opportunity to play such a key role for his team. At the NHL level, the Stars are stacked with quality centers ahead of him on the depth chart: Brad Richards, Mike Ribeiro, Adam Burish and Tom Wandell. As a result, he likely would have had to spend most of the season in the AHL.
Lindgren, the Stars' third-round pick (No. 75) in the 2005 Entry Draft has spent nearly two full seasons in the minor leagues in a pair of stints in North America. Originally a product of the Ilves system in his native Tampere, a 20-year-old Lindgren played with the Stars' AHL team (then in Iowa) during the 2007-08 season. Despite posting a respectable 10 goals and 34 points in 69 games, he felt a bit homesick at times during the season.
As a result, the Stars gave Lindgren permission to return to Finland and play for Lukko the following season. Still feeling his way in the professional game, Lindgren played a supporting role to veterans such as former NHL forward Antti Laaksonen (who retired last spring) and established young SM-Liiga standouts such as Juha-Pekka Haataja (now with HIFK). By the end of the 2008-09 season, which he closed strong in finishing with an otherwise modest 5 goals and 24 points in 49 games, Lindgren felt more confident about returning to North America.
Lindgren spent most of the 2009-10 season with the Texas Stars, but earned a one-game call-up to the big club early in the season. He skated 10 shifts and received 8:33 of ice time from coach Marc Crawford in a 4-1 home loss to the Los Angeles Kings on Oct. 19, 2009. Upon returning to the farm team, he posted 14 goals and 47 points in 74 AHL games. He stepped up his game a notch in the Calder Cup playoffs, scoring 7 goals and 17 points in 24 games to rank second on the team to Jamie Benn in postseason scoring. The Stars made it to the Calder Cup Final before losing to the Hershey Bears in six games.
After the season, Lindgren became a restricted free agent. This time around, his decision to return to Finland had more to do with the number of forwards at the NHL level with the Stars and opportunity to play on Lukko's top line than homesickness. He immediately emerged as a dominant player in the SM-Liiga this season and hasn't looked back.
When the season is over, he may have an opportunity to return to North America either with the Stars or a new organization, or else he has the option of becoming a well-paid young star in Europe. Like most players, however, he refuses to look beyond this season.
"After the season I will think about playing for the national team (in the World Championships) and my options for next year," he said. "Right now, the only focus is on finishing the season strong and winning in the playoffs. I came close to a championship last year in the AHL and I'd like to go one step further this time."