Lightning's Steven Stamkos returns to Tampa for evaluation after injuring leg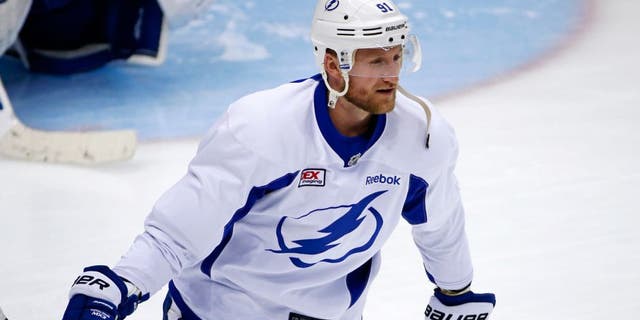 TAMPA, Fla. (AP) -- Tampa Bay Lightning captain Steven Stamkos is returning home for further evaluation of a right leg injury suffered during a victory over the Detroit Red Wings.
Stamkos, who last summer re-signed with the team that drafted him No. 1 overall in 2008 rather than testing free agency, was hurt during the opening period of Tuesday night's 4-3 road win.
The club said Wednesday that the six-time All-Star center would fly to Tampa instead of remaining with the team on a five-game trip that continues in Buffalo on Thursday night.
"There are no other updates at this time," the Lightning statement said.
Stamkos scored his team-leading ninth goal of the season Tuesday and leads the NHL with 20 points in 17 games. He grabbed the back of his right knee and limped off the ice after colliding with Detroit's Gustav Nyquist along the boards.
Stamkos, who helped Tampa Bay reach the 2015 Stanley Cup Final, missed all but one game of last season's playoffs after undergoing surgery to remove a blood clot discovered near his collarbone. He also missed significant playing time three years ago, when he broke his right leg against Boston and was sidelined 45 games.
The 26-year-old cited loyalty, respect and the potential to win for years as major reasons for re-signing with the Lightning rather than testing free agency, where he likely would have commanded much more than the $68 million he's scheduled to earn over the next eight seasons.