LeBron: Teams can still be great even if they don't win championships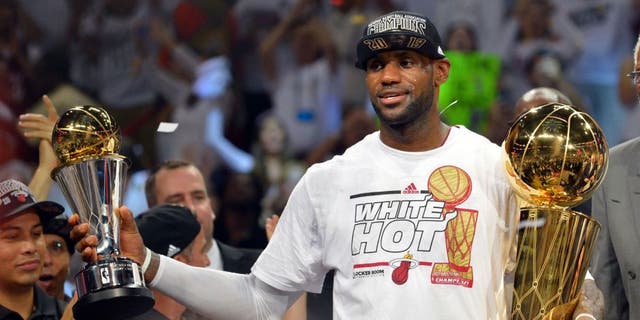 NEWYou can now listen to Fox News articles!
LeBron James has been to the NBA Finals six times in his career, which includes a current streak of trips to the championship round in an incredible five straight seasons.
He's won two titles, and has lost four. But in his eyes, that doesn't diminish the accomplishments of the teams that came so close.
"If you don't know the history of the game, man, you'll forget how many great teams didn't win championships," James said, in a video for Bleacher Report. "And that doesn't mean they wasn't great, though."
James made this remark as part of a discussion about the 2000 Western Conference Finals series between the Lakers and the Trail Blazers, which is widely-regarded as one of the most competitive in recent memory. It was the first year that L.A.'s superstar tandem of Shaquille O'Neal and Kobe Bryant played under Phil Jackson, and the Lakers had to come back from a 15-point fourth quarter deficit in Game 7 to win the series and advance to the Finals.
James is right that plenty of great teams don't end up winning titles, and some of this may seem like an attempt at defending his own legacy. But the greatest do, and they win more than one -- which is something that James has already accomplished.
(h/t: PBT)