LeBron James is giving the Smithsonian $2.5M for its Muhammad Ali exhibit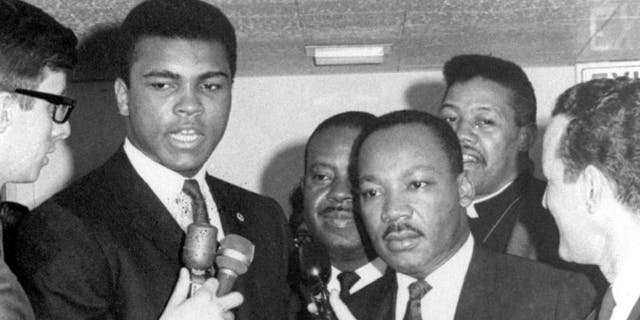 LeBron James wants to make sure Muhammad Ali's legacy lives on for future generations.
The Cleveland Cavaliers star, along with his charitable foundation and business partner Maverick Carter, is donating $2.5 million to the Smithsonian National Museum of African American History and Culture to support the museum's exhibit: "Muhammad Ali: A Force for Change."
Ali, who died in June at the age of 74, is being celebrated for his efforts outside of the boxing ring as a champion of social justice.
To hear James tell it, it's a debt of gratitude. Per USA Today:
"Muhammad Ali is such a cornerstone of me as an athlete because of what he represented not only in the ring as a champion but more outside the ring -- what he stood for, what he spoke for, his demeanor," James told USA TODAY Sports in an exclusive interview about the exhibit.
"I think of him every day. Without his passion and goals and morals, I don't know if I'd be sitting here today talking to you about it."
James becomes the latest sports superstar to donate to the museum, which opened in September. Michael Jordan and Magic Johnson are also benefactors, having donated $5 million and $1 million respectively.
Ali's widow, Lonnie, praised James in a statement.
"I am overwhelmed by the incredible generosity LeBron James has shown. This exhibit will enable children visiting the Smithsonian to learn more about Muhammad's work outside of the ring, particularly his humanitarian work and stance on social justice for all people. ... I know that if Muhammad was alive today he would be honor."