Larson 'ready' for prime time at EGR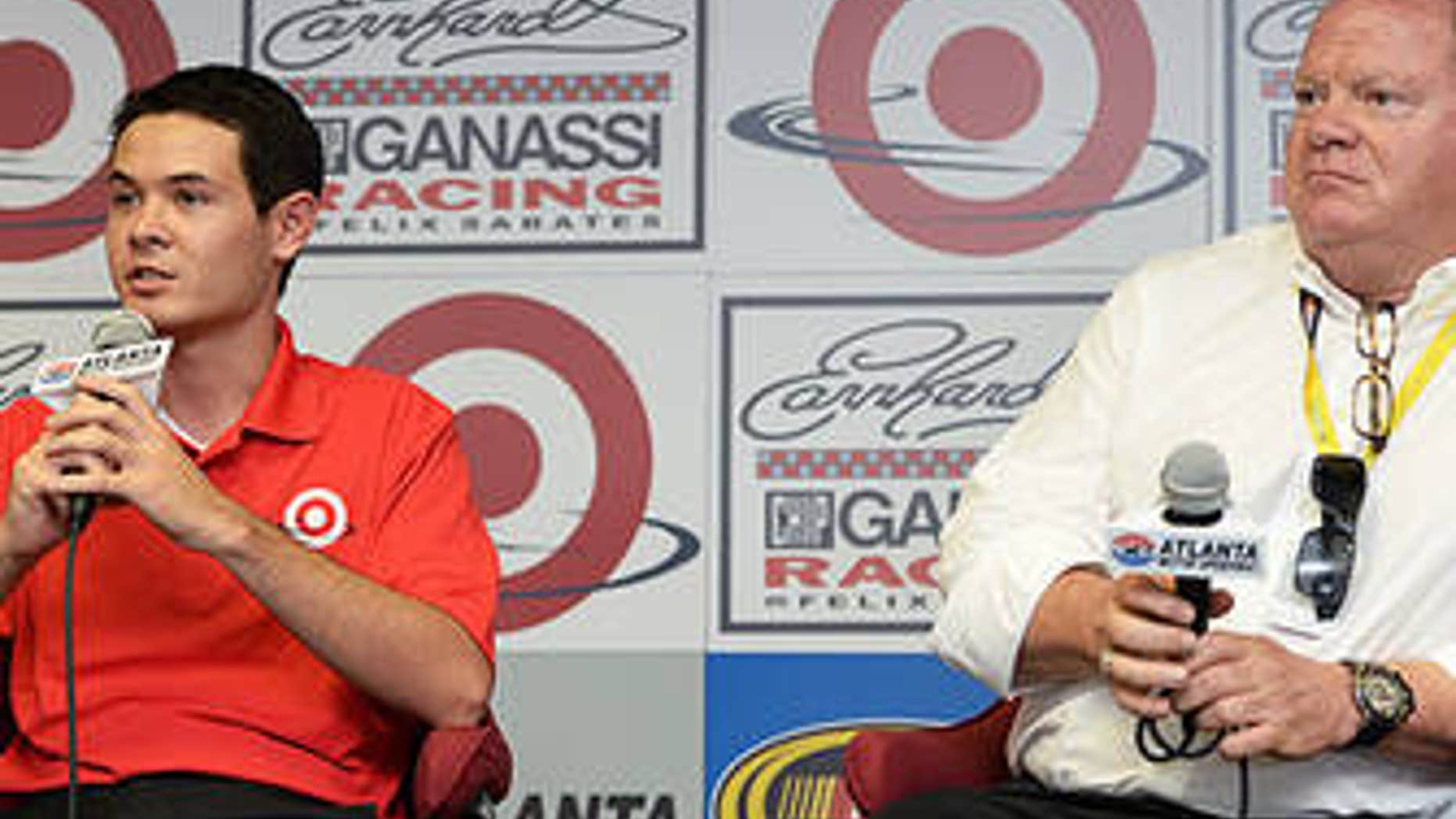 HAMPTON, GA. – Kyle Larson cannot get enough seat time behind the wheel of a race car.
And that's a good thing. The 21-year-old Earnhardt Ganassi racer -- who was officially introduced Friday as the driver of the No. 42 Target Chevrolet for 2014 -- will run for Sprint Cup points next year while continuing in the Nationwide Series with Turner Scott Motorsports.
Larson currently is eighth in the Nationwide Series points after 23 races. With six top-fives -- including a season-best second place at Bristol in the spring -- and 13 top-10 finishes, his rookie year so far has been a success. But even though Larson won 30 races while running 123 events in 12 different series last year, team owner Chip Ganassi thinks Larson's best years are ahead of him.
"Obviously, the guy is ready," Ganassi said. "Some of the smarter people in the sport have said that maybe a Cup car is more like his style than a Nationwide car. It wouldn't be the first time that's happened. Time will tell, but the guy is ready."
Before the season began, Larson tested a Cup car at Rockingham Speedway with EGR's R&D team led by former No. 42 crew chief Jim Pohlman. Larson said he took an instant liking to the Cup cars.
"I enjoyed the Cup cars quite a bit at that test," Larson said. "I told people I think they're going to suit me better than the Nationwide cars."
Larson believes his greatest challenge will be the level of competition within the Sprint Cup Series. Although he's had the opportunity to race against Cup drivers in Nationwide races, it's a whole new world competing against full-time efforts at NASCAR's top level.
"It will be an even bigger step than Nationwide," Larson said. "The cars are different -- more horsepower. There's a lot I have to learn, but I think the competition level is probably going to be the toughest part."
Ganassi confirmed on Friday that he would keep the current No. 42 team intact -- with crew chief Chris Heroy at the helm. But Larson, whose race schedule extends far beyond the Nationwide Series already, said he's only had time to touch base with Heroy by phone.
"I race so often I don't have a chance to go by either shop," Larson said with a laugh. "I talked to him earlier this season -- but not much recently. I like him. You can tell he's really focused. I think me and him will work well together."
Larson, from Sacramento, Calif., likes the look of Heroy.
"You can tell he's a Californian -- he's got the long hair and stuff,'' Larson said. "I think we'll work well together. He's really smart. He's pretty young, too. We'll be good together."
Larson will have teammate Jamie McMurray to lean on as well. Since McMurray was thrust into the spotlight to fill in for an injured Sterling Marlin at Ganassi in 2002, the 37-year-old veteran has raced eight of his 12 years in Cup with that team and knows the systems.
McMurray said he welcomes the role as mentor to Larson.
"If I were in Kyle's position, I would like someone like me to be that guy," McMurray said. "I say that because I'm very honest about everything and I don't know that everyone in this garage is always honest. Most of them are, but not all, and I hope Kyle views me as someone [he] ... can trust and knows if he asks me a question, he's going to get an honest answer."
As for freshman expectations, Larson remains realistic. He will be satisfied if he can initially run within the top 15 as he adapts to the nuances of the series.
"Throughout the year I'll learn a lot, so if I can run in the top 15 most of the time and contend for top-fives and wins, I think that would be a successful rookie season," Larson said. "I think their cars are good enough to make the Chase -- it isn't out of the question.
"But If I don't make the Chase, I won't be too disappointed, because it is my first season in Cup and it's probably the toughest series out there. I don't plan on lighting the world on fire, but I'd like to run good."
So when would Larson like to make his Cup debut?
"Next weekend at Richmond would be great," Larson said with a chuckle. "The sooner the better. But any time. Any time I'm in a Cup car will only make me better.
"I don't get excited about a lot of stuff. I don't show too many emotions. But I'm definitely excited about this and grateful for the opportunity."