Larry Bird reportedly stepping down as Indiana Pacers president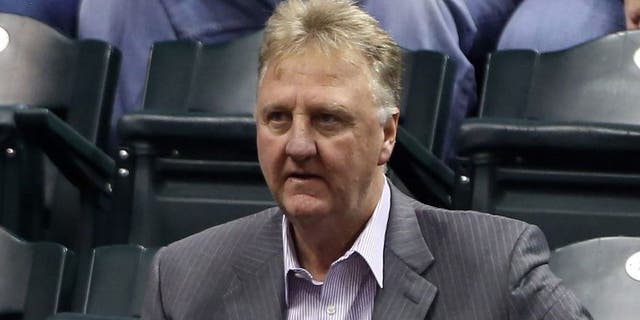 Larry Bird, who has been in and out of the Indiana Pacers front office for 25 years, reportedly is taking another step back moving from team president to a consultant role.
According to Yahoo Sports, the 60-year-old Bird will be replaced by Kevin Pritchard, the teams general manager.
Bird left the same role in 2012 for health reasons before returning a year later. There is no word yet what the impetus was for his latest move, but theres no doubt his job was about to get a lot tougher with the teams only star player, Paul George, able to hit free agency in the summer of 2018.
Bird, who famously grew up in French Lick, Ind., returned home to work for the Pacers in 1992, the same year he ended his Hall of Fame playing career with the Celtics. He was a special assistant in the teams front office from 1992-97 and took over as Pacers coach from 1997 to 2000. He led Indiana to the NBA Finals in 2000 and had a 147-67 record when he resigned after his third season, as he promised he would when he took the job. He returned to the Pacers in 2003, holding the president of basketball operations title from then until the health hiatus in 2012.
Pritchards primary focus will now be figuring out whether George intends to opt out of his contract and leave the team perhaps with his hometown Los Angeles Lakers as the most likely landing spot. If George gives that indication, the Pacers might have to look into trading him this summer.
The other big question is what's next for Bird. Yahoo is reporting that the Magic might have interest.
Garrett Ellwood | NBAE/Getty Images