Kobe Bryant tells Kevin Durant to 'Be the Greatest' in shoe exchange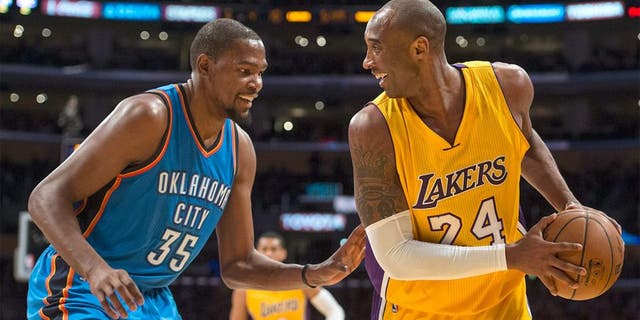 Retiring Lakers star Kobe Bryant and Oklahoma City Thunder's Kevin Durant had a little Christmas Eve (Eve) shoe exchange after their game Wednesday night.
It was a gesture of goodwill between NBA powerhouses, despite the Thunder embarrassing the Lakers in a 120-85 rout at Staples Center.
Durant confirmed that the shoe swap had occurred, though he joked to reporters, "Don't tell nobody ... I don't want to be looked at as a softie."
Bryant even scrawled a message to Durant before handing over the footwear: "To KD: Be the Greatest."
A nice message from one NBA great to the next.
H/t Bleacher Report.