Knicks' Carmelo Anthony Speaks About Coach Mike D'Antoni Resignation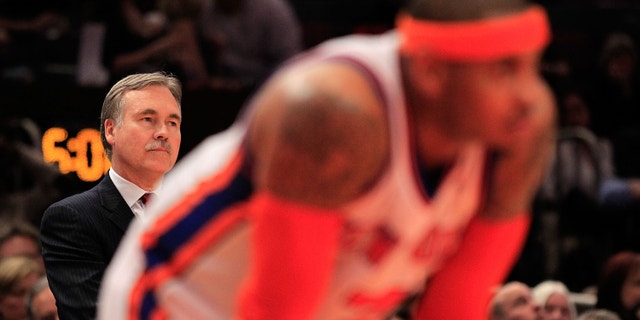 In a surprising announcement Wednesday afternoon, New York Knicks head coach Mike D'Antoni resigned after reports that his team's star player, Carmelo Anthony, would ask to be traded unless his coach was ousted.
While D'Antoni took part in the team's shoot around Wednesday morning, the New York Post is reporting that the coach told the Knicks interim general manager Glen Grunwald that he didn't feel he could "positively affect the team" anymore, specifically his star player Anthony.
Since the trade speculation began, Anthony has denied the rumors of a rift between him and D'Antoni.
Anthony explained that "nobody saw it coming," and that unlike what reports have said, he played no role in the coach's resignation.
"I didn't have anything to do with that. That was Coach's decision," Anthony said. "I really don't know where his mindset was at, what he thought, what he was thinking as far as his decision to step down. So anything about me and Mike, you guys who probably know Mike personally, anything like that, he will tell you we never had any issues. Any disagreements that he had with us as a team, we talked it out and went from there."
While D'Antoni communicated with some players through phone or text message following the announcement, Anthony's only communication with his former coach was in a brief conversation during the team's morning workout.
"I think in life there are times where change could be for the better," Anthony said. "This is an unfortunate situation for Coach Mike, but sometimes something will just spark off for guys to wake up and say, 'OK, something is real right here and we got to change.' Obviously, I'm not speaking for Coach, but that's how he felt. He stepped down for the sake of the team. He felt like the team needed change and he did that. I wish it was under better circumstances, but at this point it is what it is."
Grunwald assured speculators that D'Antoni's resignation was not just about Anthony. "It was our whole team not playing up to where we thought it could be. Mike was as frustrated as anyone about that. That's what led him to that decision. That maybe it needs to be a new approach."
Following Anthony's return from being injured, after three weeks of "Linsanity" in which bench warming point guard Jeremy Lin reinvigorated the Knicks with an 7 game winning streak, the team fell flat-- winning only two of ten games, giving the team an overall losing record of 18-24.
Carmelo Anthony Denies Trade Rumors, D'Antoni Out As Coach
With D'Antoni's four year, $24 million contract expiring this summer, there was a mutual feeling in the organization that Anthony would get along better with another coach.
The Knicks' team owner, James Dolan, said that D'Antoni's resignation "was not an event planned in any way."
"We had a very honest discussion," Dolan said. "He clearly felt it was best for the organization if he would not continue as coach of the team. He did offer to stay. But after a long discussion we agreed that it was best for the team to have a new voice and new coach."
Dolan added, "The season is not over."
Sources reported that Anthony likes interim head coach Mike Woodson, who unlike D'Antoni, does not feel the offense should run through Lin and instead will work more with Anthony's structure.
"There's still a lot at stake here," Woodson said. "I understand expectations are high. I knew that coming in. That's the way it should be. We still have an opportunity to do something special. I'm going to hold these guys accountable for that."
Based on Reporting By The Associated Press.
You can reach Kacy Capobres at: KacyJayne@gmail.com or via Twitter: @KacyJayne
Follow us on twitter.com/foxnewslatino
Like us at facebook.com/foxnewslatino