Kluber set for second start since return from DL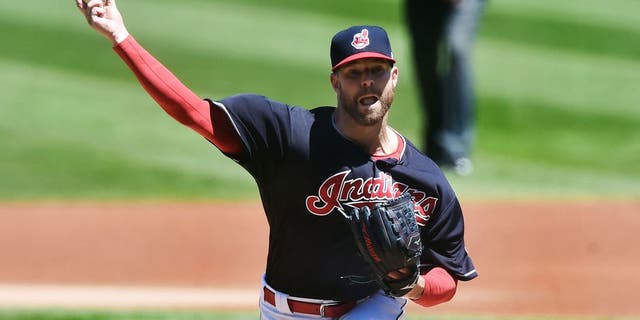 NEWYou can now listen to Fox News articles!
CLEVELAND -- The Cleveland Indians have not played like defending American League champions for much of the 2017 season.
Their next chance to build some momentum will be a six-game homestand that begins Friday with the start of a three-game series against the slumping Chicago White Sox.
Coverage begins at 6:30 p.m. on SportsTime Ohio
The White Sox (25-33) have tumbled into last place in the AL Central, having lost seven of their last nine games and 11 of their last 15.
The Indians (29-28) have spent the majority of the 2017 season hovering around the .500 mark, with their starting pitching and offense performing far below the expected levels.
Last year, the Indians had the second-best starters' ERA in the league. This year, the starters' 4.87 ERA is dead last in the league.
The Cleveland hitters were second in the league in runs scored last year, but they are 12th in that category this year.
"The only thing we've been consistent at is in being inconsistent," Indians manager Terry Francona said. "Either we make an error at the wrong time, the starter doesn't go deep into the game, or we don't get any hits."
The Indians' record has never been more than four games above .500 or two games below .500. They were 13-14 in May, and they are 2-4 in June. They return home after losing four of five games on a road trip to Kansas City and Colorado.
Even more distressing, they are 12-14 at Progressive Field, one of only two AL teams with a losing record at home. They also have a losing record within their division (13-14) after feasting on AL Central competition last year (49-26).
The sputtering start has left Francona frustrated.
"Potentially, this team is good," he said. "We're not showing it right now, but we're going to. One way or another, we're going to. We need to go out and play baseball the way we know how to play and dictate the pace of the game. We need to value how important every game is and leave it all on the field. If that's not good enough, we'll come back tomorrow. If we do that, we're going to be OK."
The Indians have their best starter going in the first game of the White Sox series. Corey Kluber (4-2, 4.36 ERA) will be making his second start since spending a month on the disabled list with a lower back strain.
In his return on June 1, Kluber got the win in an 8-0 decision over the Oakland A's. He pitched six scoreless innings, allowing two hits and one walk while striking out 10.
In his one start against the White Sox this year, Kluber pitched a three-hit 3-0 shutout with nine strikeouts and two walks on April 21. In 16 career appearances against Chicago, Kluber is 7-4 with a 3.07.
Miguel Gonzalez (4-6, 4.83 ERA) will start for the White Sox on Friday. In a 10-4 White Sox win over Cleveland on April 13, Gonzalez did not get the decision, pitching 4 2/3 innings, allowing three runs on eight hits with five strikeouts and four walks.
"I'm excited to face them again. It's been a while. They're a good team with a lot of talent," Gonzalez told MLB.com. "They went to the World Series last year, so that'll tell you something about needing to be competitive against them. I just have to go out there and make good pitches and let things happen."
In seven career appearances against the Indians, Gonzalez is 4-1 with a 4.12 ERA.