Kings hoping Williams will be ready for opener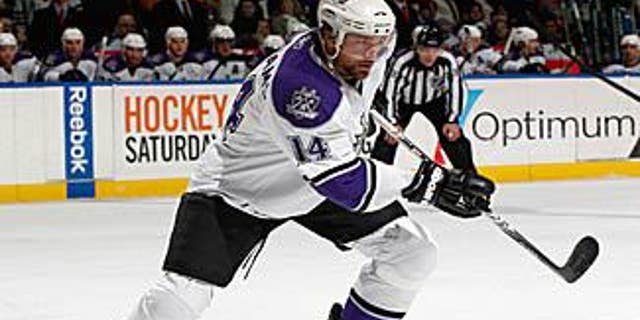 EL SEGUNDO, Calif. -- It appears that the Justin Williams watch will take another day.
The Los Angeles Kings winger said that he will "probably" make a decision on his status Wednesday as he continues to work back from a dislocated shoulder.
Williams went through his second straight practice Tuesday and was seen taking contact in the corners and participating in drills, although he wore a gray jersey designated for injured players and was not part of the line rushes.
He said he would later talk to coach Terry Murray and stopped short of saying he was ready to play Game 1 of the Kings' opening round series against San Jose on Thursday.
"I'm not going to say that," Williams said. "Since contact began I've felt fine. I'm going to talk to him about my status and, overall, it felt better than yesterday. I hope tomorrow feels better. That's all I can say, really."
The main issue is being able to absorb hits, and Williams would be jumping into a playoff situation where physicality is intense.
"A lot of my game is shaking off checks, and if I can't do that, my impact goes down drastically," he said.
Williams passed a strength test over the weekend and has been given the green light to play, Murray said. It's now a matter of him being comfortable enough to step into a playoff game.
"The criteria now is for Justin Williams to come and tell me that he felt good in practice, comfortable with his competitive balance along the boards and can play," Murray said.
Murray indicated that he would like to know Williams' status before Thursday as he would like to avoid making it a game-day decision.
Williams suffered the injury March 21 against Calgary when he was hit by Robin Regehr. He is wearing a harness on the shoulder and his range of movement is limited.
"It's not comfortable, but you do what you have to do out there," he said.
Williams declined to have surgery so he could be ready for the playoffs, and his team desperately needs his help on the power play as it enters the postseason in a 1-for-23 slump over the past six games.
"He's a really good offensive guy for our team, and that's obviously the spot where we've been struggling at the most this whole season," defenseman Drew Doughty said.
"Our power play hasn't been very good at all, and he'll help us with that as well. Having him back will definitely give us a little bit of a boost and a little extra confidence."
Murray would expect to insert Williams right back into a top-six forward and first-unit power-play role, as opposed to limiting his minutes. Those game plans are written in pencil in his desk drawer but Murray indicated that, in his mind, he expects Williams to be on the ice for Game 1.
"He's put in so much work since the injury," Murray said. "He's geared himself mentally, right from the time he was injured, to get ready to play in the playoffs. I do expect that, I just need to hear it."
Friendship on hold: Doughty grew up with San Jose star rookie Logan Couture in London, Ontario.
The two skate during the summer and remain friends, but Doughty said that will be put aside when the puck drops.
"We're all friends off the ice, I guess," Doughty said. "But it's playoffs. There's no friends out there right now. … I'm sure we'll be chirping back and forth the whole time. We're not going to be friends on the ice. Not that I'm going to get too deep in the chirping or anything like that, but I'll definitely throw a couple out there."