Kevin Durant addresses reports that he left OKC because of Russell Westbrook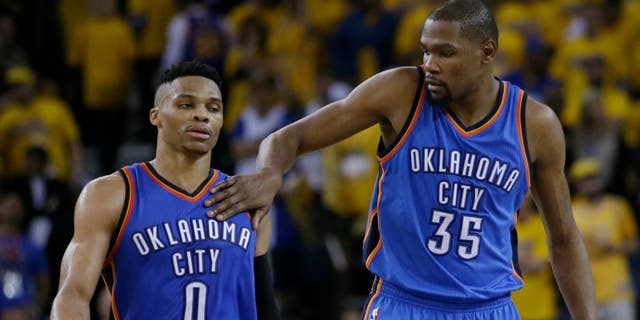 NEWYou can now listen to Fox News articles!
Two weeks have passed since Kevin Durant's decision to leave Oklahoma City, and the murmurs about what exactly caused the departure continue to build.
Reports following Durant's departure cited sources with inside information who posited that Russell Westbrook played a big part in Durant taking off for the Golden State Warriors--possibly due to their deteriorating relationship, and more likely, so Durant could preempt the possibility of Westbrook taking off and leaving him with the bag in 2017.
On Tuesday, Durant addressed those rumors for the first time, saying the reason he left the Thunder had nothing--zero, zilch--to do with Russell Westbrook and their friendship.
Per The Oklahoman's Anthony Slater:
"No, [Westbrook] wasn't [why I left]," Durant said. "It wasn't. Obviously, coming out now, all these reports are gonna come out. But I can't really control. I made a decision based on where I wanted to go. Simple as that. WE can talk about all the reasons and the factors, but it's simple. [Golden State] is where I wanted to play basketball."
You can take Durant's words at face value. It's indeed hard to call "I wanted to play for the team stacked with superstars argument" a lie or bogus reason for wanting to play in Oakland.
Then again, Durant's still in turtle mode, and if he did leave OKC to preempt a later Westbrook move, or because he hates his guts, now would be the definition of a bad time to let it be known.
Stay low, Kevin. It'll all be over soon. (It's only just begun).
Dan is on Twitter. His relationship with Russell Westbrook remains nonexistent and flawless.