Kansas, Villanova punch last two tickets to Final Four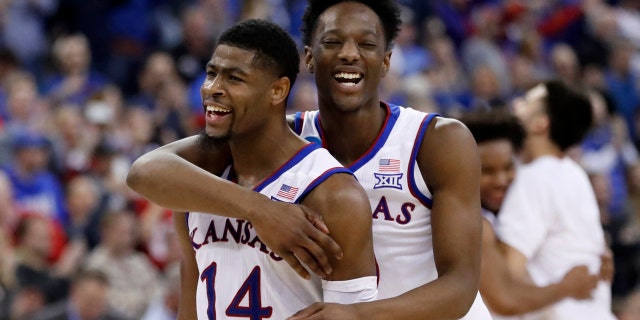 Next week's Final Four will feature three blue blood programs and a Cinderella story whose most famous fan is a 98-year-old nun.
Kansas and Villanova booked the last two spots in San Antonio Sunday as the Jayhawks defeated the Blue Devils 85-81 in overtime in the Midwest Regional Final in Omaha while the Wildcats knocked off Texas Tech 71-59 in a black-and-blue East Regional Final in Boston.
Michigan and Loyola-Chicago, who advanced to college basketball's biggest stage with wins on Saturday, will face off in the first national semifinal at 6:09 p.m. on March 31. Villanova and Kansas will tip off the second semifinal 40 minutes after the conclusion of the first game.
It will take some doing for them to top the Midwest Regional final, in which Malik Newman scored 32 points, including all 13 points in overtime to push the Jayhawks to their first Final Four since 2012.
Duke had rallied from a seven-point second half deficit to take a 72-69 lead with less than a minute to play. But Sviatoslav Mykhailuk knocked down a three-pointer with 27 seconds left to tie the game at 72. Duke had a chance to win at the end, but Grayson Allen's running jump shot rattled off the rim with a second to go.
In overtime, Newman took over. He hit two threes from the left corner, the second of which gave Kansas the lead for good at 81-78 with 1:51 remaining. He followed that up with four straight free throws to send the Jayhawks to the 15th Final Four in the program's illustrious history.
Trevon Duval led Duke with 20 points before fouling out late in overtime. Gary Trent Jr. added 17 point while ACC Player of the Year Marvin Bagley III put up 16 points and 10 rebounds. Allen, the latest in a long line of polarizing Duke players stretching back to Bobby Hurley and Christian Laettner, finished his final college game with 12 points on 3-for-13 shooting.
Earlier Sunday, Villanova rode their balanced scoring and stingy defense past Texas Tech to keep their drive for a second national title in three seasons alive.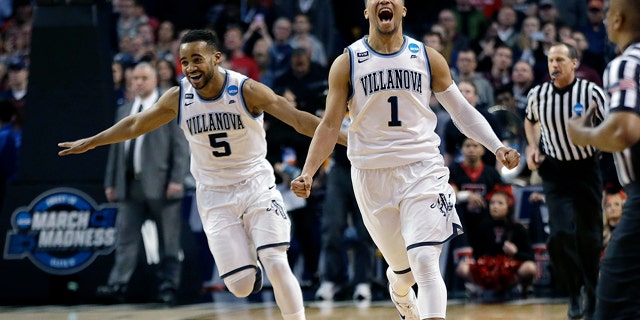 Jalen Brunson led the Wildcats with 15 points. Eric Paschall finished with 12 points and a career-high 14 rebounds, while Donte DiVincenzo and Mikal Bridges each added 12 points. Keenan Evans led Texas Tech with 12 points.
Villanova entered the game with 44 3-pointers for the tournament, but only hit four of their 24 attempts from beyond the arc Sunday. It didn't matter as the Wildcats defense put the clamps on Texas Tech after the Red Raiders jumped out to an early 9-1 lead.
The Wildcats outscored the Red Raiders 21-8 in the final 11:25 of the first half and took a 36-23 lead into the break. The 23 points was Texas Tech's first-half season low. Villanova also outrebounded Texas Tech 51-33, a total that included 31 defensive rebounds, and collected six steals.
Villanova's lead grew as high as 15 in the opening minutes of the second half and the Wildcats took advantage of a bevy of Texas Tech fouls, racking up 29 points at the free-throw line to close the game on a 15-8 run after the Red Raiders closed to 56-51 with four minutes to play.
The Associated Press contributed to this report.