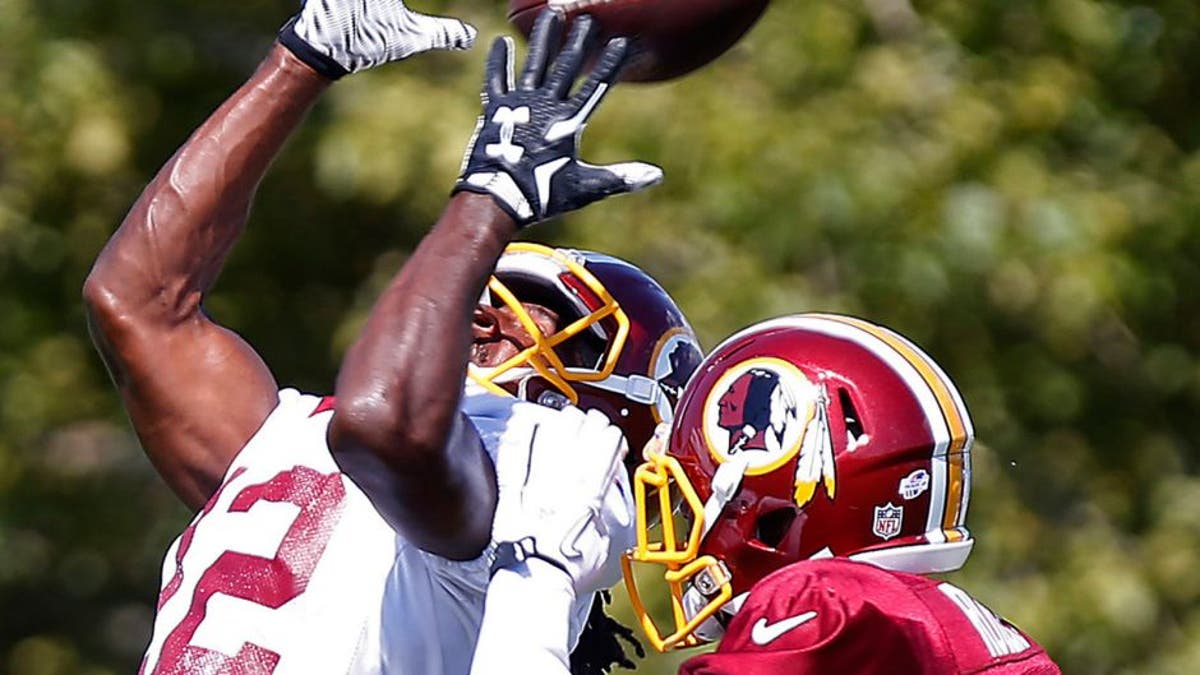 Bashaud Breeland is expected to man the Washington Redskins' nickel cornerback spot in 2015, but a sprained right medial collateral ligament will keep him out of action from four to six weeks. As he fights to get back in time for the regular season opener, journeyman cornerback Justin Rogers will get an opportunity to fill in at nickel cornerback.
Some would have expected the Redskins to turn to David Amerson instead. While Amerson has a better draft pedigree, and around the same level of NFL production, he is a prototypical outside cornerback. Redskins defensive backs coach Perry Fewell explained the complexities of the slot position, and why it's important to not just simply turn to the next man on the depth chart.
"The nickelback normally covers the second receiver, from the outside in -- the No. 2 receiver, and he has to be really tough, he's got to be a really savvy player, because he's got to be able to go inside and play the run as well as the pass," Fewell said, per The Washington Post. "A lot of people think, 'Okay, why don't you use a safety for that?' Because he has to have the cover skills of a corner because that slot receiver has been catching a lot of balls -- 60, 70 balls in the National Football League. So, he has to be able to cover, he has to be able to blitz, he has to be able to tackle. And that's a little bit more than the corner out on the edge, who's on the island by himself and very seldom gets hit or touched out there unless he himself is making the tackle."
Although Rogers has struggled to make a dent on other franchises and find a long-term home, the Redskins' coaches are very impressed with what they've seen from Rogers so far this offseason.
"Just very consistent, very professional," Fewell said. "Doesn't say a whole lot, just goes about his work every single day. He (Rogers) makes very few mistakes. And what he does lack in physical ability, he makes up for with heart. … We like him as a role player, and now he's going to get a chance to play with the 'ones.' Obviously, that chemistry they'll build between now and when Breeland's back will be important for us."
The nickel cornerback spot is a very important one in modern-day NFL defenses as teams move to more looks that feature three wide receivers. Rogers has struggled with consistency to this point in his career, and if the Redskins are forced to use him regular season action, they might want to have a backup plan in place.
(h/t Washington Post)