Just 1 Win Baby: After 16 straight losses, Raiders in desperate search of win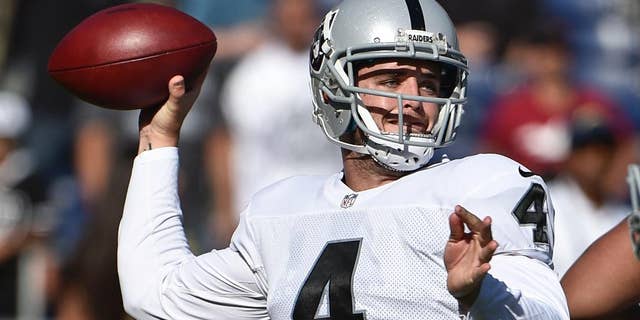 ALAMEDA, Calif. – Ever since Al Davis arrived in Oakland more than a half-century ago to build his beloved Raiders into one of pro sports' most successful franchises, his team has been closely associated with Davis' favorite saying, "Just win, baby."
That mantra has now turned into a desperate plea. The Raiders have become the 13th team in pro football history to lose 16 straight games following last weekend's defeat in San Diego and are six games away from a defeated season.
"We hate it," safety Charles Woodson said. "We hate that that's even in the minds of our fans. Does it weigh on us? No, I don't think it weighs on us. Just losing games is what weighs on us. We're not worried about we're 0-and-whatever. We're just tired of losing games. We have to find a way to win."
That hasn't happened since Matt McGloin led Oakland past Houston 28-23 on Nov. 17, 2013. Six straight losses followed to end last season and the Raiders picked up by losing their first 10 games this season.
With six more losses starting Thursday night against Kansas City, Oakland would match the 0-16 record for futility set by the 2008 Detroit Lions — the only team to go winless in a 16-game season.
"There's still a lot of pride in this organization," Tom Flores said. "That's the painful part right now. People look at us and laugh."
The Raiders are three losses shy of tying the franchise record of 19 set in 1961-62. Flores played on the 1961 team before sitting out the next season with an illness. That skid ended with a win over the Boston Patriots in the final game of the season.
"There weren't that many people who even knew or cared," Flores said. "The last game of the year we had about 5,000 people at the game. Afterward, you'd have thought we had won the Super Bowl with people tooting their horns until midnight."
The fortunes of the franchise immediately changed with Davis coming on the next season as coach. The Raiders won three Super Bowl titles and for years had the best record in all of pro sports under Davis' leadership.
The downfall started before Davis' death in 2011 as the team has failed to post a winning record since winning the AFC title in 2002.
Rock bottom arrived this year with a blooper reel full of lowlights to go along with the losses. It started in the home opener when James Jones fumbled twice on the same play to thwart a scoring chance against Houston.
There was also a shotgun snap that sailed past McGloin that led to a touchdown for Miami. Then a botched fake field goal in Cleveland that led to an interception by backup quarterback Matt Schaub on his only pass of the season.
Earlier this month, quarterback Derek Carr threw a pass to left guard Khalif Barnes, who was ineligible on the play but was mistaken by Carr for running back Darren McFadden, who is more than 100 pounds lighter. Barnes knew he was ineligible but caught the ball instead of knocking it down and promptly fumbled, setting up a Denver touchdown.
"We come into the locker room and we ask each other the same questions and I don't know the answer," defensive tackle Antonio Smith said. "I don't know the answer to what we need or what needs to happen for us to get over the hump."
After a decade of losing, this was supposed to be that year. General manager Reggie McKenzie spent his first two years shedding bad contracts to set the stage for this past offseason when Oakland had about $60 million in salary cap room and a near full complement of draft picks.
While the draft class has shown promise with linebacker Khalil Mack and Carr looking like building blocks and guard Gabe Jackson, cornerback TJ Carrie and defensive tackle Justin Ellis earning starting roles, the other acquisitions have been disappointing.
Schaub lost the quarterback job in training camp and is being paid $8 million to be a holder. Smith, Justin Tuck and LaMarr Woodley have combined for three sacks. Maurice Jones-Drew has run for just 70 yards on 33 carries.
With significant salary cap room again next offseason and a possible top draft pick, additions to that foundation could come soon. But questions remain about who will select the players, who will coach them and where they will even play.
Owner Mark Davis said after the firing of Dennis Allen in September that McKenzie would be evaluated in part on how the team played the final 12 games.
Interim coach Tony Sparano has done nothing to show that he should be back next season and the Raiders still are figuring out where to play in 2015.
They are in the final year of their lease at the Coliseum and would like to get a stadium deal to remain in Oakland. But with talks showing little progress, Davis has met with officials from San Antonio and also talked about possibly moving back to Los Angeles.
The more immediate concerns are about getting that elusive first win.
"Never could have imagined not having a win up to this point," Woodson said. "That's frustrating to the coaches and players on this team that work each day to go out there and play well. We're after a win, that's the bottom line."
___
Online:
AP NFL website: www.pro32.ap.org and www.twitter.com/AP_NFL