Jordan Matthews still the slot WR, and he's fine with that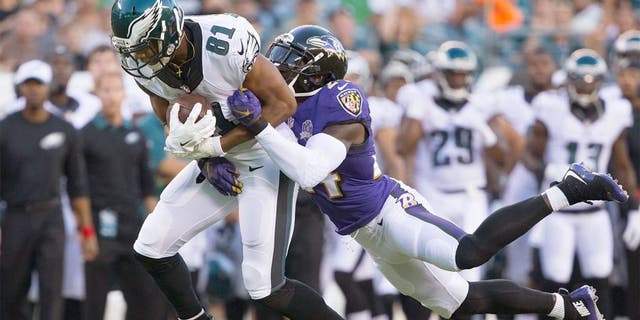 NEWYou can now listen to Fox News articles!
There has been much talk about Jordan Matthews' role within the Philadelphia Eagles' offense in 2015. After the departure of Jeremy Maclin, some expected that Matthews would become an outside wide receiver. With most of training camp in the books, it's fair to say that he will remain in the slot. And that's fine with him.
The Eagles know that they could use Matthews on the outside and he would be effective, but they use him in the slot because he creates mismatches. His 6-foot-3, 212-pound frame is difficult to match up with for a defense. He is too fast for a linebacker and often too big for a safety.
"Every [slot] receiver has their own attributes that give them an advantage, whether they're shorter and quicker or they're bigger and more physical," Eagles safety Malcolm Jenkins said of the strategy to play Matthews in the slot, per Paul Domowitch of the Philadelphia Inquirer.
"Jordan uses his body well. I think he knows how to be physical at the line of scrimmage with guys that want to press him. He knows how to release. He's strong at the top of his routes and has really good body control when he catches the ball. I think he knows how to use his attributes to his advantage."
Although the Eagles primarily use "11" personnel groupings, featuring three wide receivers, they will also mix in base packages. In these groupings, there are two wide receivers and no slot. Matthews figures to play on the outside when the Eagles use this personnel package. He is prepared for when this situation arises in live game action.
"I've been doing some of both [in the slot and outside]," Matthews said. "But I'm going to do whatever the coaches want me to do, man. Shoot, if they want to put me at running back, I'll go and do it."
Matthews is expect to take a major leap forward in his sophomore 2015 campaign. He has already developed an excellent rapport with Sam Bradford. Earlier this month, Bradford heaped praise on Matthews. As a rookie, Matthews totaled 872 receiving yards and eight touchdown catches on 67 receptions.
(h/t Philly)