John Calipari says 76ers should take UK's Jamal Murray with No. 1 pick over Ben Simmons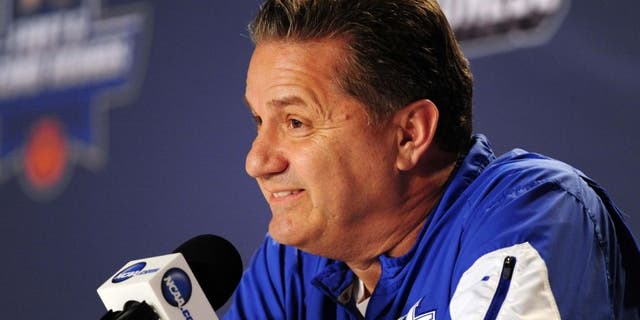 NEWYou can now listen to Fox News articles!
You can't say John Calipari doesn't promote his players.
The Kentucky Wildcats head coach believes that the Philadelphia 76ers should take UK's Jamal Murray over Ben Simmons and Brandon Ingram with the No. 1 pick in this month's NBA Draft. While appearing on ESPNU's College Basketball Podcast, Calipari said that the former Wildcats point guard is "the safe No. 1."
Calipari would know about coaching No. 1 picks, having mentored top picks Derrick Rose at Memphis, and Karl-Anthony Towns, Anthony Davis and John Wall at Kentucky.
"If you're going to take the No. 1 pick, you probably should do it from our program,'' Calipari said.
It's been assumed that the Sixers would either take Simmons or Ingram with the top pick and the Lakers would choose whoever was still available. But if you ask Murray, he believes he's the cream of this year's draft crop.
"I believe I'm the best player in the draft, but every team needs what they need," Murray said after working out Wednesday with the Celtics, who have the third pick.
Calipari loves what Murray, who is listed at 6-5, 207 pounds, can provide at the next level, and thinks he will be a perfect fit with the way the NBA game has evolved.
"He can stretch the defense, play off the ball and the NBA is going position less,'' Calipari said on the podcast. "He can flat-out shoot the ball and is physically ready.''