Joe Rogan nearly brought to tears by Ronda Rousey's performance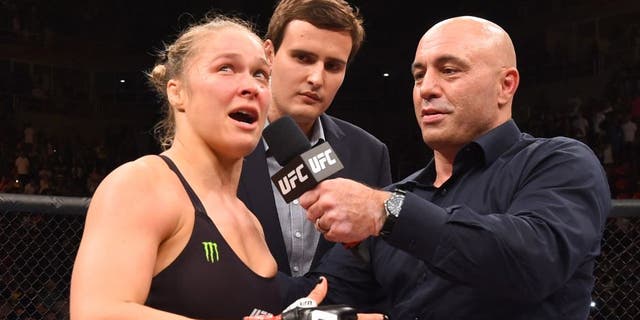 NEWYou can now listen to Fox News articles!
Ronda Rousey is a bit of a crier.
The most dominant athlete in the sport will be the first person to admit that she sheds a few tears from time to time, and it nearly happened again after her latest fight at UFC 190 on Saturday in Brazil when she knocked out Bethe Correia in just 34 seconds.
The emotional lead-up to the fight was exhausting as Rousey had to endure more than a few attacks from Correia, not the least of which was a jab referencing suicide, which hit way too close to home for the UFC women's bantamweight champion after her father took his own life while she was still a child.
Everything amped up even more for Rousey when she lost a dear friend just 24 hours out from the fight after professional wrestling icon "Rowdy" Roddy Piper -- the person who passed along his nickname to the UFC champion -- passed away at just 61.
From the anger to the elation of the moment, Rousey got choked up in her post-fight speech and had to fight back the tears as she celebrated her sixth title defense while also earning her third knockout in four fights.
"Everyone knows I'm a big crier. I was trying my best not to, I really was," Rousey said after UFC 190 concluded. "Sometimes I can't believe this is actually my life."
Rousey's performances probably bring more than a few tears to her opponents' eyes as well, but last Saturday night in Brazil, the same could almost be said for UFC commentator Joe Rogan.
The veteran announcer heaped praise on Rousey after her latest sub-minute win while telling her repeatedly what an honor it was to call her fights. According to Rogan, he was nearly brought to tears by the experience.
That same night, Rogan also took to Instagram where he declared Rousey "the greatest female combat sports athlete of all time" -- and while it might sound like some kind of promotional hyperbole, the fact is he's probably right on the money.
Rousey might also be closing in on becoming one of the most talked-about and admired athletes in all of sports across all platforms. Her fights are always special, and Rogan had no problem admitting it.
Is it getting dusty in here?