Joe Johnson buries Clippers with Game 1 game-winner after clutch Chris Paul shot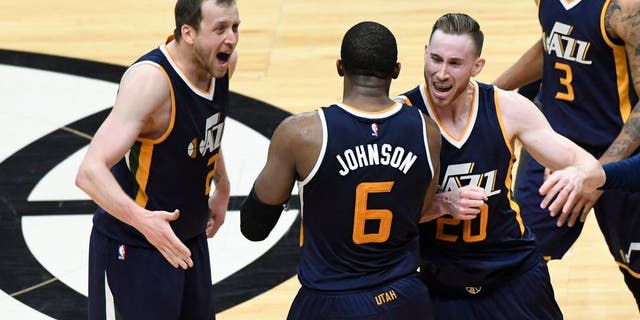 NEWYou can now listen to Fox News articles!
Anyone who thought the Utah Jazz were doomed when Rudy Gobert went downforgot about Joe Johnson.
The seven-time All-Star led the Jazz through a first-quarter knee injury to their starting center and capped an epic back-and-forth with Chris Paul in the closing moments to give the Jazz a 97-95 win:
On the previous possession Saturday at Staples Center, Paul nailed a tough shot of his own to tie the game at 95 following two missed free throws from Utah's Derrick Favors. Alas, it wasn't enough, as the Clippers faced playoff heartbreak once more.
Johnson finished with 21 points on 9-for-14 shooting off the bench. Paul had 25 points, 11 assists and seven rebounds, while Blake Griffin led all scorers with 26 points and added seven rebounds.
Utah played small for much of the game after Gobert's injury, and the Clippers clearly weren't prepared for that adjustment.Los Angeles will have plenty of time to watch film and try to prepare for a Jazz team that could be without its star big man, however. Game 2 is in Los Angeles at 10:30 PM ET on Tuesday.
As for Gobert, X-rays were negative, and he was transported to an off-site medical facility for an MRI, according to the team.