Jimmie Johnson 'would love' to catch good friend Jeff Gordon in race wins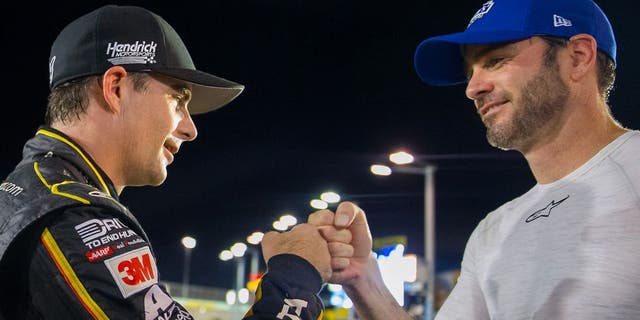 With his win in March at Atlanta Motor Speedway, Jimmie Johnson tied Dale Earnhardt on the Sprint Cup Series' all-time wins list. Then, two weekends ago at Auto Club Speedway, he surpassed the late seven-time champion.
Now with 77 victories in the sport's premier division, Johnson is just six winner's trophies away from tying three-time champion Cale Yarborough, who has 83 wins. Meanwhile, the Hendrick Motorsports driver is just seven shy of legends Bobby Allison and Darrell Waltrip -- both 84-time race winners.
Next up, provided Johnson actually races long enough, is four-time champion Jeff Gordon, who retired at the end of last season with 93 triumphs.
Gordon is third on NASCAR's all-time wins list, trailing only David Pearson (105 wins) and Richard Petty (200).
How focused are Johnson and his No. 48 team on catching Gordon -- a good friend of Johnson's and his longtime teammate at Hendrick Motorsports?
On tap this weekend is Martinsville Speedway, a track where Johnson owns a series-high eight wins and could move one step closer.
"If you start shooting goals like that, you can't do it," said Chad Knaus, Johnson's crew chief for all six of his championships. "The thing you have to do, from my standpoint, is we have to worry about going to Martinsville and trying to win that race first. We have to worry about practicing well, qualifying well, winning that race. Then we have to do the same thing going to Texas, then so on and so forth throughout the rest of the season.
"I don't put the cart before the horse ... so we focus forward, and that's what we're worried about."
Johnson, for his part, is carrying a similar approach into Martinsville, a .526-mile short track where he actually hasn't won since 2013.
"There's no guarantees about when you're going to win and have success," said Johnson, who turns 41 in September. "I've been very, very fortunate to win 77 of these things, which blows my mind on its own. It's easy to look at trends and say we win 'X' a year, but at some point that stops, that stops for everybody. I don't know when that point is for me. I certainly hope it's not soon. I would love to get to Jeff. But you never know."