Jeurys Familia is the latest Met to be lost for extended period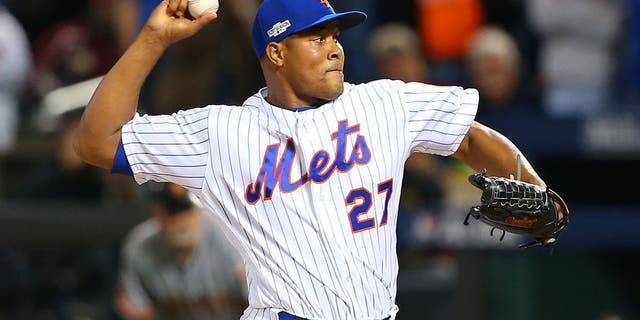 The New York Mets took another hit on Thursday, when they announced closer Jeurys Familia has been diagnosed with an arterial clot in his right (pitching) shoulder and might need surgery.
Familia is heading to St. Louis to meet with Dr. Robert Thompson, an expert in circulation issues who diagnosed and performed surgery on Matt Harvey last summer. He also performed the 2012 surgery on then-Mets pitcher Dillon Gee, who was similarly diagnosed with a blood clot in his shoulder. Gee also missed the rest of the season.
Familia missed the first 15 games of the 2017 regular season because of a suspension, the result of an alleged offseason domestic violence incident. Since his return, he has not been as effective as the past two seasons when he was a dominant force out of the Mets' bullpen. Familia has three saves and a 3.86 ERA in 11 appearances this season. He led the National League with 51 saves in 2016.
On Wednesday, Familia blew his first save of the year, allowing four runs (three earned) in one-third of an inning in a 6-5 loss to the Giants.
The injury news about Familia comes on top of the controversy stirred when starter Matt Harvey was suspended for three games after failing to show up this past Saturday. Another of the Mets' young arms, Noah Syndergaard, has also been lost for an extended period due to a lat injury. Syndergaard joined fellow starters Seth Lugo (elbow) and Steven Matz (elbow) and multiple other teammates on the disabled list last week.