Jets' Willie Colon: Bowles' look after penalty 'pierced my soul'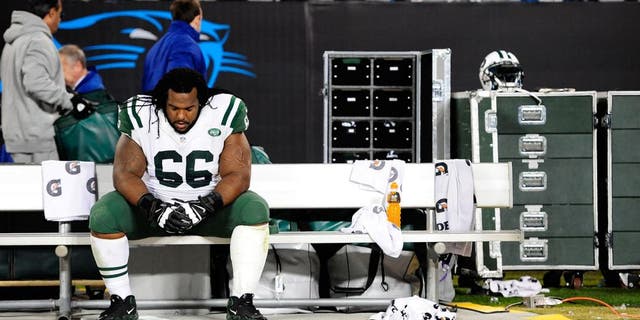 NEWYou can now listen to Fox News articles!
When a player is on injured reserve, he's not supposed to have any impact on his team's games. New York Jets guard Willie Colon bucked that trend on Sunday, however.
While in street clothes and on the sideline, Colon was flagged for a 15-yard unsportsmanlike conduct penalty for talking trash to Dominique Rodgers-Cromartie. The penalty negated a first down by the Jets, which understandably didn't sit well with head coach Todd Bowles.
"The look that man [Bowles] gave me, it pierced my soul," Colon said via Rich Cimini of ESPN. "Coach, I'm sorry. My team, I'm sorry. And it won't happen again."
But what exactly happened on the play to lead to the flag?
"When that play happened, me and [DRC] kind of got in a verbal back and forth, if you will," Colon said. "Decker beat him on the play. He came to me. I've never [been one] to back down. I had some un-Christian-like words to say back. The ref saw it."
Colon was obviously apologetic for the gaffe, and he's fortunate the Jets came away with the win. Had that penalty cost the Jets a victory, he likely wouldn't have too many friends in the locker room for a little while.