Jessica Eye supports a women's flyweight division but she won't fight there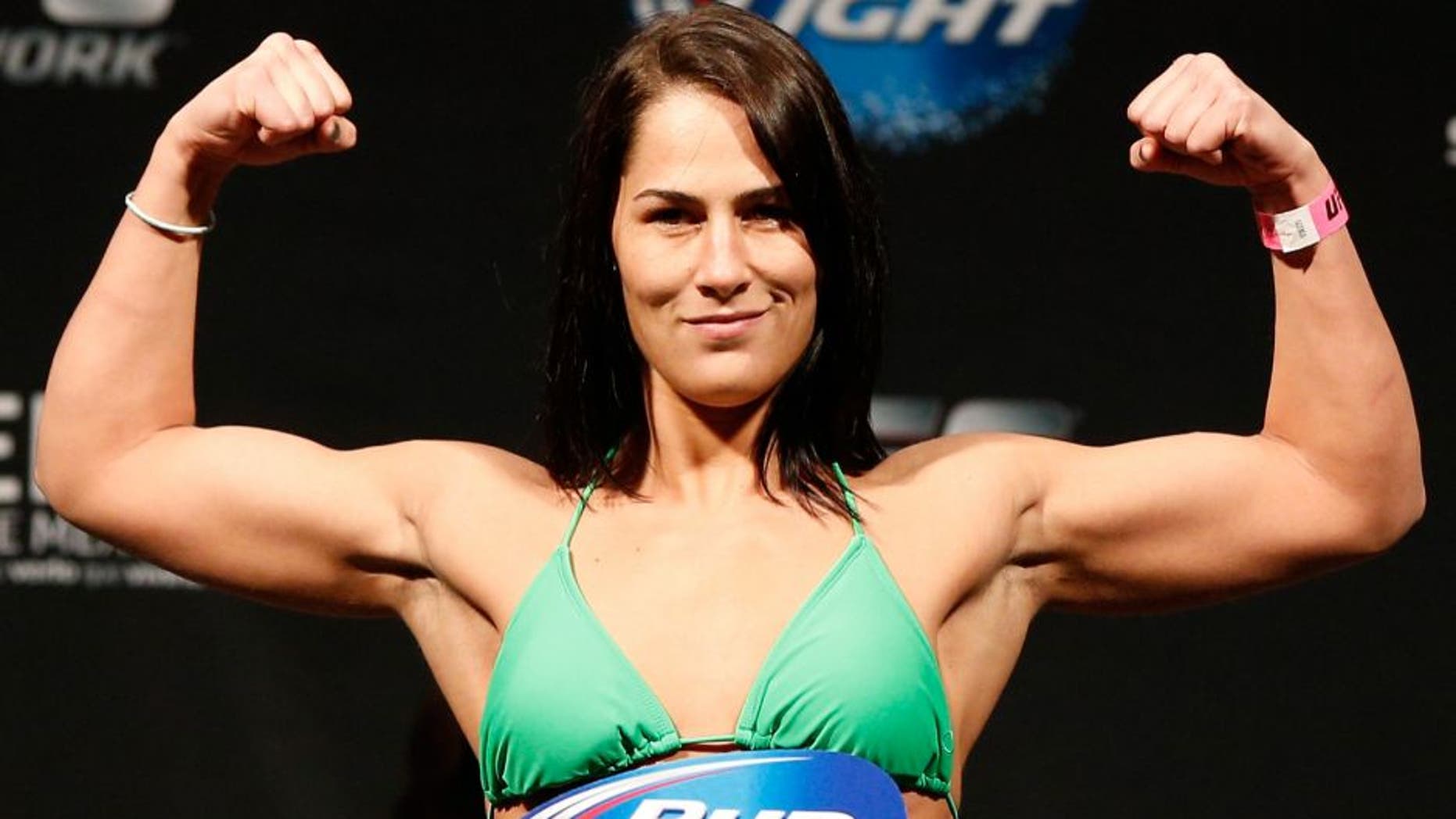 Before Jessica Eye was in the UFC, she was considered one of the top fighters in the world at 125 pounds with wins over a slew of notable names as she etched a 10-1 record before being called up to fight in the biggest MMA promotion in the world.
Eye has been a top-10 fighter in the bantamweight division, but many have wondered if she would return to 125 pounds if that option ever opened up in the UFC.
Just recently, the UFC booked its first fight in the women's flyweight division as Joanne Calderwood faces Valerie Letourneau in a special bout at 125 pounds at UFC Fight Night in Ottawa on June 18.
UFC officials have already stated that the fight is just a special attraction for that card, but there is always a possibility they could open up another division in the future.
If the women's flyweight class was opened, there would certainly be fighters willing to move down from 135 pounds or move up from 115 pounds, but don't count Eye among those names.
"I once fought at 125 and they ask 'Jess, could you make it down there?'. I can honestly say without an IV, I could not do it healthy where my body wouldn't lack of something and my performance wouldn't lack," Eye told FOX Sports recently. "I can honestly say I used the IV for years. I'm not going to lie and say I didn't. I did when I was at 125."
At 135, I can diet down. Right now, I'm 142 and that's a hard diet and when I say hard dieting, I'm busting my ass on nutrition, keeping my water up, and you know what, I don't think personally I could get back down there without sacrificing something. -- Jessica Eye
Looking back on her time as a flyweight, Eye knows she faced a lot of top women in the division but chances are all of them probably had a much easier time getting down to 125 pounds than she did.
With the UFC now banning intravenous use for fighters in the promotion, Eye says it would be extremely difficult for her to get down to 125 pounds. And the struggle would probably far too great to actually consider the cut these days.
"I think a lot of the girls I fought at 125 made it there a lot easier than I did. I pushed through but I'm a lot bigger. I'm 29 years old now. I'm not 23 anymore. I'm more of a developed woman. My muscle structure has changed and I think that now being at 135, I've had better nutrition and it's like my body is growing. It's allowed to have the nutrition it needs to be where it needs to be," Eye said.
"I walk around anywhere from 150 to 152 and I started my hard diet, I was 152 pounds and I literally ate my way down. We're talking scheduled time of meals, micronutrients that are down to the absolute science. You don't take your Ferrari and put crappy gas in it and then say 'oh well it still made it to the track on time'. I want to perform at my optimum level."
As far as the possibility of the new division goes, Eye is all for the idea of the UFC creating more weight classes for women.
Right now the UFC only promotes the 135-pound and 115-pound weight divisions, but the addition of a flyweight class and potentially a featherweight class where a fighter like Cris "Cyborg" Justino would perform would certainly up the ante.
"I absolutely do," Eye said about more women's divisions being added. "There's different-sized men and it's the same with the women's divisions. You've got guys that are kind of floating at different weight classes, but I think it would be amazing. I'm super excited for some of these girls that fight at 115 that kill themselves to get to 115 and 125 would be a good weight class for them."
As much as Eye supports the idea of a 125-pound division, she wouldn't be one of the founding members because she's built her body to be the best bantamweight in the world and that's not going to change any time soon.
Eye has learned how to prepare her body to fight at 135 pounds, and the last thing she wants to do is battle and lose to the scales 24 hours earlier just for the sake of fighting at a smaller division.
"If you're trying to make the fight about weight cutting, then good luck to you," Eye said. "You're obviously not focused on the right things. Because I'm trying to eat good and have good fuel in me. Not sit in the sauna for five hours at a time, not drink any water and then feel like death and not get any sleep.
"That's not what I want. I couldn't be any happier being at 135 right now."