Jeff Gordon reflects on intense growing pains at road courses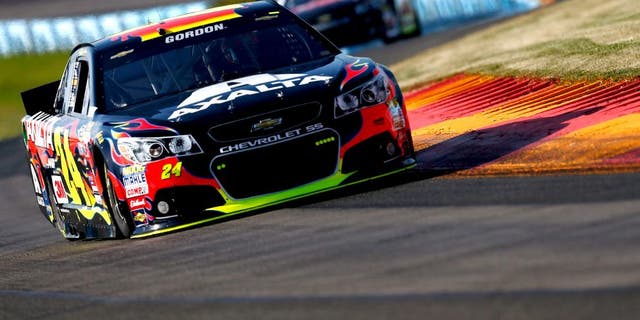 Four-time champion Jeff Gordon may be the Sprint Cup Series' all-time wins leader on road courses, but the Hendrick Motorsports driver was not always the best at going left and right in a stock car.
Preparing for his final road-course race this weekend at Watkins Glen International, Gordon reflected on how difficult the road-course events were for him in his earliest years in NASCAR.
"I remember going to Sonoma the first time and turning the car over on its side in the tire wall. I felt like I was pretty lost," Gordon said Friday afternoon. "The second year I really felt a big progression, and then the third year, which I think is when I won my first road course race, I think in 1995 or 1996, everything just started to click. We worked hard at it. There is no doubt we worked hard at it. That hard work paid off."
That hard work has led to five Sprint Cup wins at Sonoma Raceway and four at WGI. It was not easy, however. Before making his way to NASCAR, Gordon attended multiple race schools as he honed his skills behind the wheel. While he had experience on the road courses, racing on them in NASCAR was an entirely different beast.
"Prior to coming to NASCAR, I was pursuing everything," Gordon said. "If somebody gave me an opportunity to get in a race car or to go to a driving school then I was packing my helmet back and heading that way. I did it up at Mosport (Canadian Tire Motorsport Park) in Canada. I did it with Skip Barber and I think after I started NASCAR I did the one out in Sonoma and I also did the one in Phoenix with Bob Bondurant. I've done a lot of those schools and then I drove a lot of different types of cars. I remember driving a Super Vee out at Indianapolis Raceway Park before I ever got into NASCAR. I did some go kart racing, too. I didn't do any shifting, but I did some go kart racing on road courses. I mean, I went to the IKF (International Kart Federation) Nationals and finished fourth in 1980 or something in a go kart.
"It's not like I didn't have any road-course experience whatsoever, but I never had it in a big car," he said. "I enjoyed the challenge. It was fun to do something different than ovals."
Unlike in the 1990s and early 2000s, the majority of today's Sprint Cup drivers have honed their skills on road courses, making these races more wide-open than ever before. In recent years, the road-course events -- especially at Watkins Glen -- have become more intense and hard-fought as the playing field has become more level.
"It is interesting how it seems like they have gotten so intense and exciting and the fans and the media seem to really enjoy these races," Gordon said. "I credit that to double-file restarts. The road courses were always pretty spread out and you didn't see as much action on them when we had single-file restarts. When they went to double-file restarts and the more equalized cars, all of a sudden these races just became bumper cars, flying through the dirt and knocking one another out of the way and tempers flaring. That brings a lot of entertainment value to it."
With only five races left before the 16-driver Chase for the Sprint Cup field is set, Gordon hopes to add another road course win to his resume before stepping away for good. Currently 10th in the series standings, Gordon appears to be on his way to a Chase berth in his final season, but the veteran understands a win is the only thing that can guarantee that.
"There are no guarantees unless you get that win," he said. "That win means so much. I feel like we are doing what we need to do from a point standings point of view. It's important for us, if we can't win this race, to be really solid again, to get a good solid finish and good points to build that buffer that we need if we can't get the win. Our goal is to win. We feel like this is a great opportunity, but, yeah, there are other guys that have a similar opportunity."
After ending Friday's final practice atop the leaderboard, Gordon harbored high hopes heading into Saturday's qualifying session. A win on Sunday would further cement his legacy as one of the best road racers in the history of the sport.