It's red-hot, first-place Cardinals vs. sputtering Cubs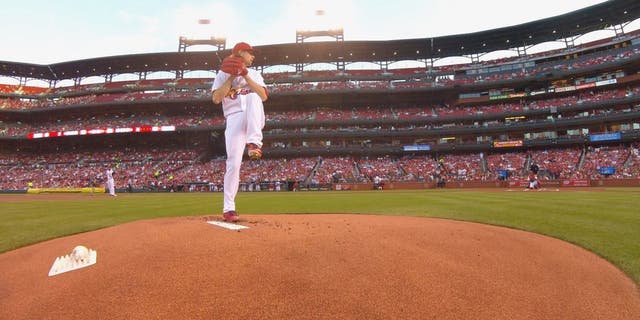 Wednesday night's 7-5 win in Miami capped a historic road trip for the St. Louis Cardinals.
They won all six games of their excursion to Atlanta and Miami, marking the first time in the franchise's 126-year history they had swept a road trip of six or more games.
"There's been some great teams that have been through here," Cardinals manager Mike Matheny told the St. Louis Post-Dispatch. "That's an impressive statement."
Now the Cardinals have a chance to make another impressive statement when they start an eight-game homestand Friday night in Busch Stadium against the Chicago Cubs.
As good as it's been during a 16-5 run over the last 21 games, St. Louis (19-14) hasn't exactly beaten up the stiffest competition. In that span, just five wins -- four over Milwaukee, one against Cincinnati -- have occurred against teams with winning records.
Over the next 25 games, the Cardinals play the Los Angeles Dodgers seven times and the Cubs on six occasions. Throw in series with Boston, Colorado and Cincinnati, and one might get a better feel for where this club is headed by early June.
Catcher Yadier Molina sounded like a man who's confident in the club's direction after the series finale in Miami. St. Louis wiped out a 4-0 first-inning deficit and used three-run rallies in the fourth and sixth innings to take the lead for good.
"If you want to be at the top of the league, you've got to win those kinds of games," Molina told the Post-Dispatch.
The Cardinals appear to have the advantage in Friday night's matchup as they'll send National League ERA leader Mike Leake (4-1, 1.79) to the mound against Eddie Butler, who will be making his first start after being called up from Triple-A Iowa.
Leake is coming off a 5-3 win over Atlanta on Saturday night in which he gave up just three hits over seven innings. He surrendered his first homer of the year to Adonis Garcia, a three-run shot that ruined his shutout bid. Still, it was the fourth straight win for the right-hander.
Leake also has a track record of success in his career against Chicago, going 9-5 with a 3.52 ERA in 23 career starts. What's more, he might be catching the Cubs at the right time.
Chicago (17-17) has lost five of its last six games, including a 3-0 setback at Colorado on Wednesday. The Cubs managed just three hits off German Marquez in eight innings, continuing a slump that has dropped them to fourth place in the NL Central, 2 1/2 games behind first place St. Louis.
"This is kind of our worst baseball," Chicago third baseman Kris Bryant said. "We're not hitting the panic button at all. We know the talent we have here. We've had a pretty tough schedule, some long games and rain delays. It can affect you."
Butler, who posted a 6-16 mark with a 6.50 ERA in 36 games over the last three years with Colorado, recorded a 13.50 ERA in 1 1/3 innings in his career against the Cardinals.
Jasen Vinlove-USA TODAY Sports | Jasen Vinlove