It's official: Johnny Manziel starting for Browns against Bengals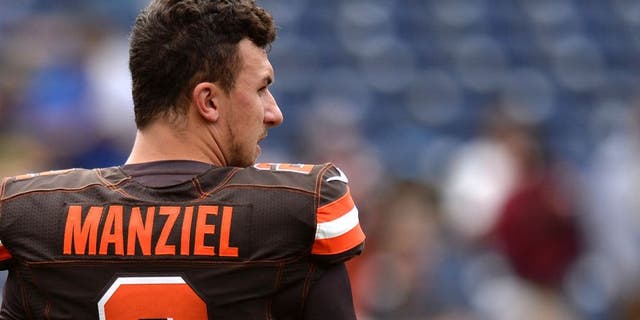 CLEVELAND -- Johnny Manziel is getting thrown to the unbeaten Bengals.
The Browns' backup quarterback will start at Cincinnati on Thursday night because Josh McCown is still struggling with a painful rib injury that has affected his breathing and sleep.
The 36-year-old McCown took several hard hits in Sunday's loss to Arizona, and with only a few days to recover, the Browns might turn to Manziel, who was roughed up in a 30-0 loss to Cincinnati last season.
McCown would not disclose whether his ribs were broken, but his difficulty with breathing and lingering soreness from hits he took two weeks ago in St. Louis indicate he's probably dealing with more than bruising. The quick turnaround will make it even more challenging for him to be ready.
"You need probably a little longer than a few days or a few weeks to let this heal," McCown said before the Browns held an evening practice. "So this is part of it. But there's other guys going through that. So guys fight through injuries all the time and you just want to get to where you know everything's stable, and if you're at that point then can you tolerate the pain and all that."
Manziel took the majority of snaps with Cleveland's starting offense in practice last week when McCown was limited by a sore right shoulder and ribs. The 2012 Heisman Trophy winner came in for McCown for Cleveland's final drive and completed 2 of 3 passes in the 34-20 loss.
Manziel replaced a concussed McCown in the season opener and won his only start the following week against Tennessee. And while the 22-year-old has shown a better work ethic following a rocky rookie season in Cleveland, Manziel remains under investigation by the NFL for a recent domestic dispute.
The league is looking at whether Manziel violated its personal conduct policy during an Oct. 12 argument with his girlfriend, who told police he was violent with her. A spokesman said the review is ongoing.
Manziel made his first career start at home against the Bengals last season and was treated rudely. He completed 10 of 18 passes for 80 yards, threw two interceptions and was sacked three times. Manziel also was taunted by several Bengals, who mimicked his "money" sign, a finger-rubbing gesture he has since dropped.