Israeli windsurfer Lee Korzits preps for London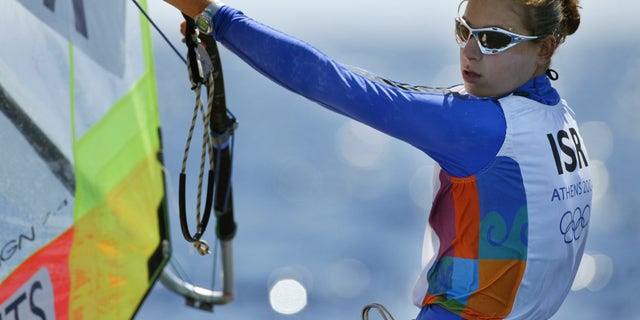 MICHMORET, Israel – Lee Korzits grew up at a humble water sports school north of Tel Aviv, where stacks of surfboards stand next to low-slung rusty tin shacks.
It's an unlikely training ground for a three-time world champion and Israel's best hope for an Olympic gold medal in windsurfing, but it's home.
"I like it like this," Korzits said. "You should have seen it when it was all shipping containers and sand."
The 28-year-old Korzits has been in the final weeks of training before heading to London to compete in the RS:X windsurfing competition. It will be her second Olympics, and her first return to the games since two debilitating accidents in the water.
Through all the setbacks, it's the sport she loves
"All your body works," she said. "It's not like sailing where you sit in a boat. You just use your body to be a steering wheel."
Korzits grew up in the small town of Hofit, from the Hebrew word for coast. She moved to the neighboring seaside town of Michmoret when she was in grade school and began taking windsurfing lessons at the community's water sports club. Her father was a lifeguard, her mother a swimmer and her older brother a windsurfer. She said she felt an immediate connection to the water, and soon excelled at local and international races.
"I feel the water in my veins," Korzits said. "I get a silence on the water that I cannot get on land."
In 2003, a 19-year-old Korzits became the youngest world champion in Cadiz, Spain. A year later she competed at the Athens Olympics, coming in 13th place.
But after her initial successes, Korzits' luck changed.
During a 2009 photo shoot in Hawaii, another surfer crashed into her. The accident snapped two ribs from her spine. Doctors told her she might never sail again.
But she defied expectations and through a steady regimen of physical therapy and swimming, returned to the sea. She said she learned to train around her "floating ribs," held in place only by muscle.
Then in 2010, Korzits nearly drowned in Poland when a competitor knocked her off her board at the European Championships. Although it was painful, Korzits said she learned to value her sport more once she was bedridden.
"I thought about how much I love windsurfing and how good it is to be healthy," she said. "All my life I am surfing, and suddenly I was stuck in a place without it."
She won another world championship in Perth in 2011, and defended her title in Cadiz in March. Her comeback from injury to more world titles led to invitations to give motivational speeches about grit and determination.
But it's on the beach that Korzits is in her element.
Sinewy and strong, she hoists her windsurf board above her head and lays it at the water's edge. Then she examines her sail, a large clear fin edged in red, and grouses over a dent formed in the sail by a careless member of the club. She hooks the sail to the board and climbs on, standing with a steady balance despite gentle waves.
Nearby in a motorboat is Ben Finkelstein, Korzits' coach. He whoops every 30 seconds, when she pumps with her body to keep the sail rippling in low winds. During breaks, Korzits chugs water flavored with a sprig of peppermint that she plucked from a planter by the sailing club's water fountain.
According to Finkelstein, the adversity that Korzits has overcome has given her a deep appreciation for the sport and for her accomplishments.
"She understands more, loves it more and enjoys every minute," Finkelstein said. "That's what helps her win."
Windsurfing is an Israeli specialty. Gal Friedman won Israel's first gold medal in Athens, as well as bronze at the 1996 Atlanta Games. Shahar Zubari earned bronze in Beijing four years ago and is competing for a spot in London with Nimrod Mashiah.
"Israel is a country everyone thinks is only war and problems," Korzits said. "We go to the Olympic Games to represent our country and show we have something else."
In London, Korzits will have to face different conditions than what she is used to on the Mediterranean Sea. She excels in strong wind and usually trains in warm water, but she said she has visited London several times recently to acclimate to the cold water and different wind patterns.
She expects to face rivals Zofia Noceti-Klepacka of Poland and Marina Alabau of Spain at the games. But outside the water, the three are close friends. In October 2011, Korzits and Noceti-Klepacka got matching tattoos on their right arms in Israel.
"We come to fight on the water," Korzits said, "and be friends on the beach."