Isaiah Thomas weighs in on whether he and potential top pick Markelle Fultz could play together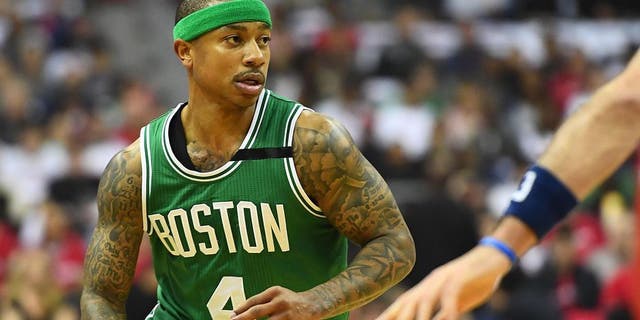 While the Boston Celtics focus on trying to find an answer for LeBron James and the Cavaliers, the Celtics front office also has one eye on its future after landing the No. 1 pick in Tuesdays lottery. Many believe former Washington point guard Markelle Fultz is the best player available, but heplays the same position as theCeltics' current cornerstone, Isaiah Thomas.
Thomas told reporters Thursday that he thinks he and Fultz could thrive together and that the two University of Washington products have spoken recently.
"He's excited," Thomas said, via ESPN. "I mean, he obviously doesn't know where he's going, but … he's excited about the opportunity."
Thomas says the two are close and believes they can figure out how to mesh on the floor.
"He asks questions; I answer them," Thomas said. "He's a good friend of mine. If it happens, we'll figure out how to play together. If not, we'll go from there."
Fultz also believes the two can coexist, telling reporters Tuesday that it would be amazing to play alongside Thomas. But he also added that he thinks Thomas would spend some time playing off the ball in that scenario.
Me and Isaiah Thomas would be a great backcourt, Fultz said on CSNNE. I think the opportunity that would be there would be amazing, just for him to playoff the ball, where I think hes better at it, or him to play on the ball and I can play off the ball. I think the chemistry would be amazing.
Its unclear if Thomas, who was named second-team All-NBA on Thursday, would be open to giving up point guard duties. But Thomas isn't spending much time worrying about potential fits. He knows it's out of his hands.
"I try to just focus on what I'm doing on the court and let those guys focus on making those decisions," Thomas said. "But whatever they do … I mean, whatever happens, happens."