Ironmen: Jeff Gordon, Ricky Rudd settled feud and kept on racing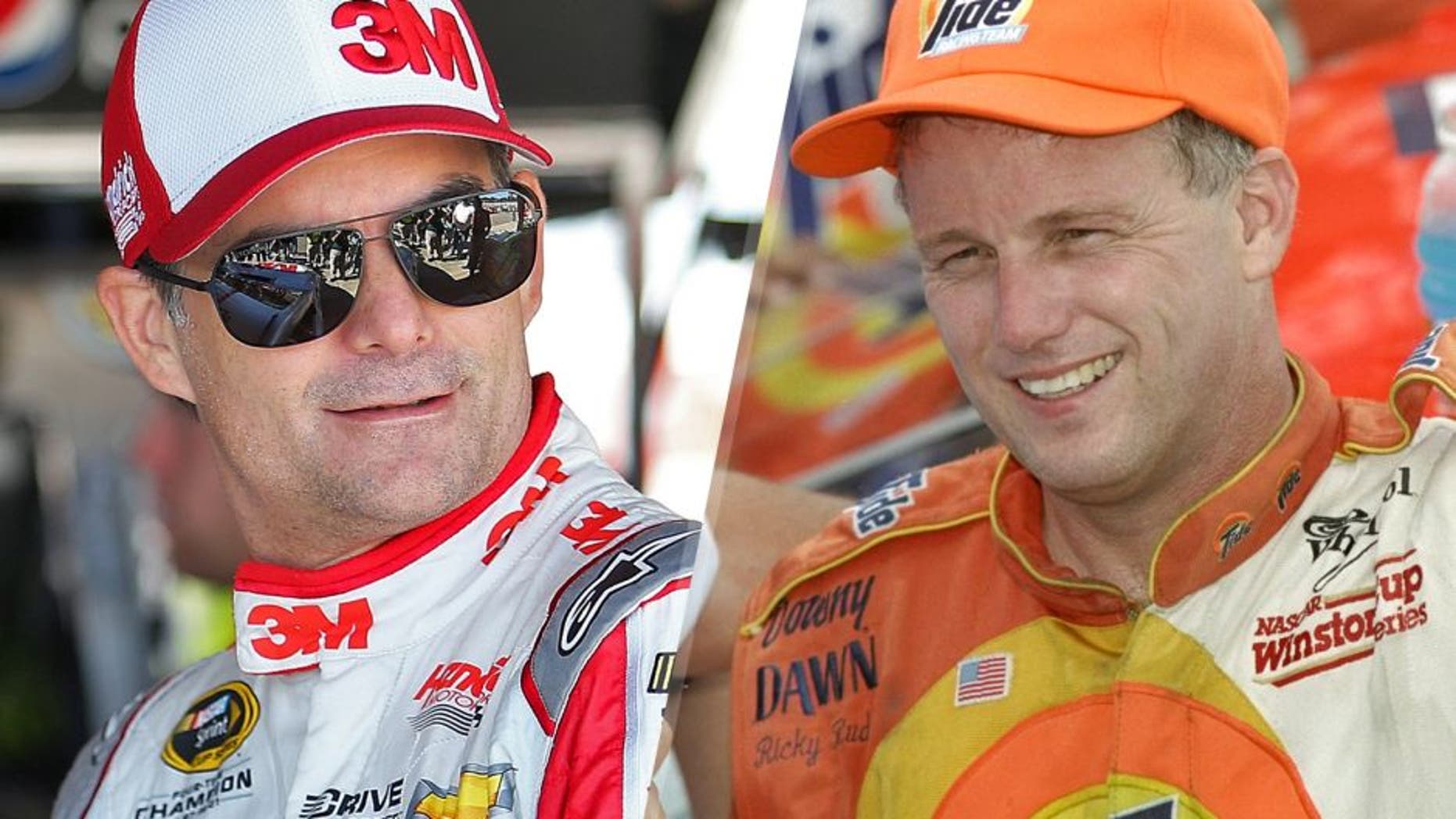 Sunday at Chicagoland Speedway, Jeff Gordon will tie Ricky Rudd's record of consecutive NASCAR Sprint Cup Series starts at 788.
And while NASCAR's two ironmen are buddies now, it wasn't always the case.
"I almost got in a fight one time with Ricky Rudd," Gordon said Friday at the Illinois track. "I'm quite certain I would have lost that fight."
According to Gordon, the dispute with Rudd took place during a race at Charlotte Motor Speedway.
"I was trying to pass him and I had a little difficulty trying to pass him," Gordon said of Rudd. "So I did a big slide job on him in the middle of (Turns) 3 and 4. I don't think he was happy about that and he basically pushed me all the way down the front straightaway and ended up wrecking both of us by the time we got to Turn 1.
"I showed my displeasure and he (Rudd) showed his displeasure," said Gordon. "We had to get into the ambulance to come back to the infield car center and we had many, many choice words. Nothing physical, but it got pretty heated."
The two drivers patched it up in an unlikely way. Rudd and his wife were house hunting on Lake Norman north of Charlotte when they saw a nice house still under construction. Rudd pulled into the driveway and was shocked when Gordon walked out of the house.
"He wanted to back up," said Gordon. "I could tell, he wanted to back up fast. But he didn't and we kind of laughed about it and talked about the incident, both apologized and it was done."
Gordon has not missed a race in his entire Sprint Cup career since making his debut in the season-ending Hooters 500 at Atlanta Motor Speedway in 1992. That race, one of the most famous in NASCAR history, marked the final career start for Richard Petty. Bill Elliott won the '92 Atlanta race, but Alan Kulwicki won the championship because he led one more lap than Elliott, earning an extra five bonus points.
"It's hard to believe I've been in that car for every single race since 1992," said Gordon.
In fact, the only race of any kind Gordon every missed was an open-wheel race when he was a teenager and got a bad case of poison ivy. Gordon said he was pulling vines off his parents' home in Indiana when he got sick.
"It went into my blood system and I got extremely allergic," said Gordon. "And my arm blew up and I couldn't bend it to turn the wheel and I had to miss a race. ... I've never missed a race since then. And I was about 15 or 16 at the time."