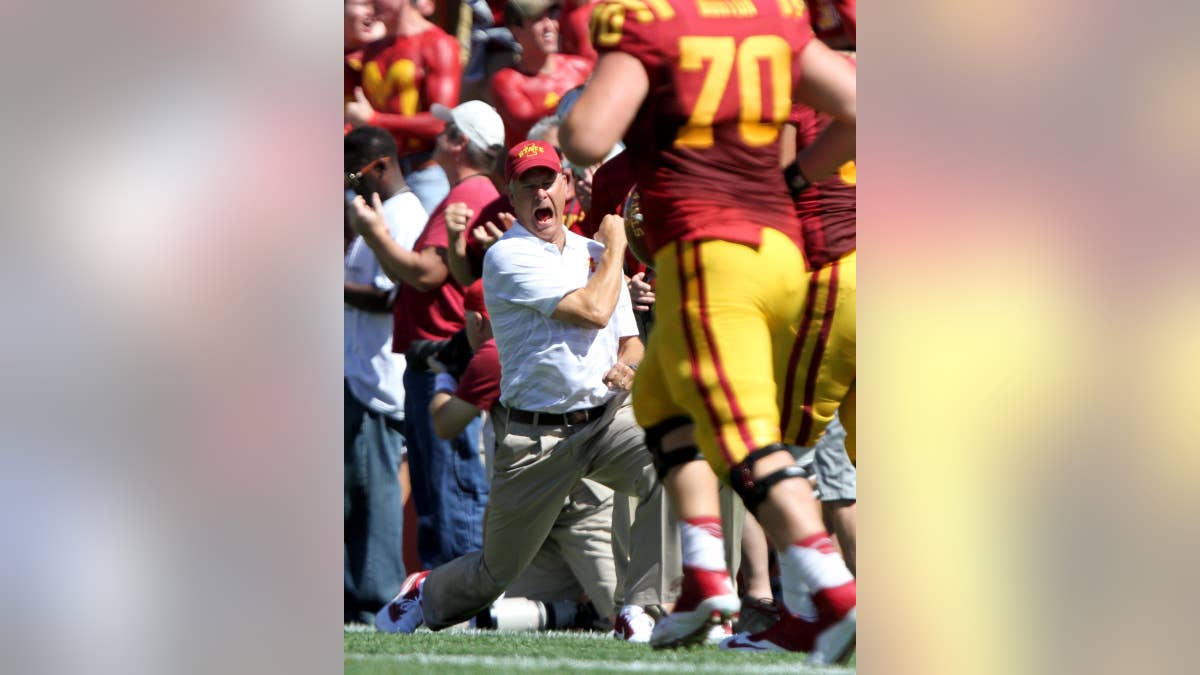 AMES, Iowa – Jarvis West has been a bright spot for Iowa State in a very difficult start to the season for the Cyclones.
Iowa State is 0-2 after a disheartening loss to North Dakota State and a depressing defeat to Kansas State.
But West caught a 17-yard TD pass, returned a punt 82 yards for a touchdown, and threw a 29-yard TD pass off a reverse in the first half of Saturday's 32-28 loss to the Wildcats.
West, a 5-foot-7 redshirt senior, was just the fourth player since 1996 to account for TDs in those three ways in one game, according to STATS LLC.
"I'm comfortable enough to say that I can make little plays when they're available," West said.
West did a lot more than that, single-handedly jumpstarting Iowa State's offense during a 28-0 run in the first half.
The Cyclones (0-2, 0-1 Big 12) hope to see more of the same from West when they face rival Iowa (2-0) on Saturday.
"He's a playmaker," quarterback Sam Richardson said.
West's potential impact was overlooked during the offseason. Star wideout Quenton Bundrage and freshman Allen Lazard drew most of the buzz surrounding Iowa State's deep receiving corps.
But with Bundrage out for the year with a knee injury, and Lazard still adjusting to the speed of the college game, West has become Iowa State's top offensive option.
"If you would have said, 'Who's your go-to wide receiver? Who's it going to be by the time the season ends?' I think we all would have said Quenton Bundrage. I think right now that shifts to Jarvis West," Iowa State coach Paul Rhoads said.
Now the Cyclones need West to live up to the promise he has previously shown in spurts for the rest of the season.
Health could be the biggest key to West's game.
West likely would have made an immediate impact in the return game as a freshman. But a hamstring injury roughly two weeks before the start of the season led to a redshirt year.
West caught 25 passes in 2011 and ranked second in the Big 12 with 26 yards per kickoff return. He had 31 catches in 2012, but a knee injury cut short West's junior season after just eight games.
West leads the Cyclones with 11 catches for 90 yards.
"We thought maybe he'd do it sooner, and would have had he not blown his hamstring as a freshman," Rhoads said. "I don't think he's had the opportunity to compete like his right now for the extent of his career because of some injury issues."
West carried the Cyclones against K-State even when he wasn't scoring touchdowns.
West's first big play was a 15-yard reception off a shovel pass from Richardson that gave the Cyclones their initial first-down conversion. The catch and run woke up a sellout crowd that had glumly watched the Wildcats cruise to a 13-0 lead.
The Cyclones ended that drive with West's TD catch. Iowa State's recharged defense then forced a punt that West took back for another score.
West's touchdown pass might have topped them all.
The play initially called for Bundrage to throw the ball to West off a reverse. But Bundrage's injury forced coordinator Mark Mangino to switch things up.
West threw a spiral that found Lazard in stride.
"I told them, 'Let me throw it. I can do it.' And then you saw the results," West said.
___
Follow Luke Meredith on Twitter: www.twitter.com/LukeMeredithAP