Injured Heat's Hassan Whiteside will not travel to Toronto for Game 5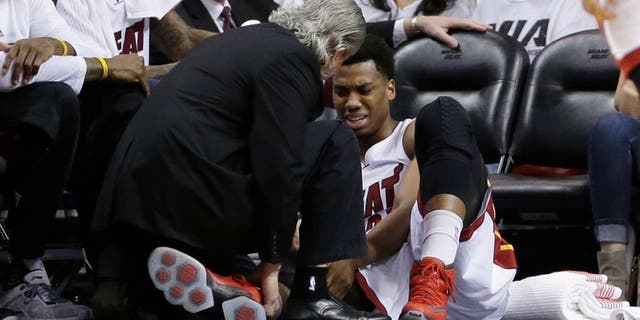 Hassan Whiteside will not be traveling with the Miami Heat to Toronto for Game 5 of the Eastern Conference semifinals on Wednesday night, the team announced.
Heat coach Erik Spoestra said the Heat center will remain in Miami for treatment and rest.
Whiteside, who sprained his right MCL after an awkward fall on Game 3 of the series on Saturday, did not play during the Heat's 94-87 victory over the Raptors Monday night. No timetable has been given for his return.
The 26-year-old Whiteside led the NBA in blocked shots and has averaged 14.2 points and 11.8 rebounds in the regular season.
The Heat-Raptors series is tied 2-2. Game 6 is back in Miami on Friday.