India's Magnificent Mary has Olympic gold in sight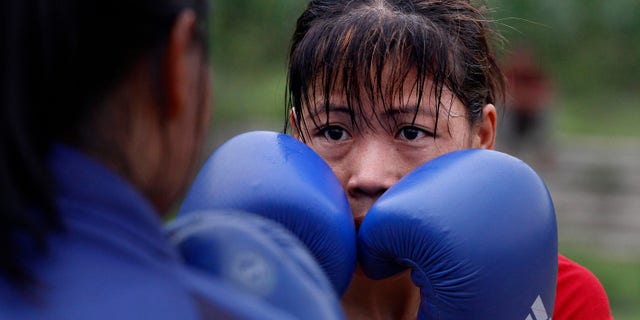 IMPHAL, India – At a remote, hillside academy in the far-flung fringes of the country, one of India's best shots at an Olympic gold medal takes a breather from her own training to trade punches with some students.
Mother-of-two Mary Kom, otherwise known here as 'Magnificent Mary,' is under all kinds of pressure while aiming, as she is, at winning one of the first Olympic medals ever awarded in women's boxing.
A five-time world champion, she has spent time in recent weeks in the nonprofit academy she established to work with promising young boxers.
The scene is typical. A dozen young boxers ignore persistent drizzle to work out with the woman they call Madame Mary. They take instructions even as she stretches and loosens her limbs to prepare herself for the session.
At one point, Mary Kom issues a few instructions and then darts off to say goodbye to her twin five-year-old sons, Rengpa and Naimai, as they leave for school. She barely has time to pat her two mixed-breed dogs, Bruny and Dolly, on the way back before returning to the rigors of a boxer's routine.
As well as being mother, wife, mentor and motivator, she works in some grueling training for herself with coach Charles Atkinson, saying the sessions have helped improve her fitness and technique.
Reporters have gathered at the training camp to get an insight into Mary Kom's daily routine, but she doesn't have the time or the inclination to answer questions on this particular day.
Her recurring line: "I'm at my best right now and the Olympics are my biggest dream."
Already it has been a long journey from her impoverished beginnings in Manipur, a troubled northeastern province which borders Myanmar and was annexed by India in 1949.
The 29-year-old Mary Kom is praised on TV documentaries, on local news media and internet blogs for encapsulating the essence of women from her region.
A gentle, motherly figure out of the ring, with a lavish ponytail and a penchant for colorful fabrics, she's tenacious once she puts on the gloves.
Often she has to spar against male boxers, and considers it good training for the London Games, where she's stepping up a weight to compete because only three women's divisions are being contested.
Mary Kom won four of her world titles in the 46-kilogram category and one at 48 kilograms. But she will have to contend with the top names in the 51-kilogram category in London, including two-time world champion Cancan Ren of China and Nicola Adams of Britain.
"I need to improve on all aspects. I have to work out more and I have to improve mentally. I have seen a lot of videos of my rivals and analyzed them a lot," Mary Kom said after a quarterfinal loss to Adams at the world championships in China last month -- a defeat which put her Olympic dream in doubt for a while.
She wound up earning a spot at the Olympics due to her continental ranking and says she hasn't been deterred by that foray into the heavier division. The bible story of David and Goliath, she says, is something she likes to apply to her boxing.
Mary Kom is the eldest of four siblings -- she has two sisters and a brother. As a young child she worked in the fields to help her parents and also took care of her siblings before leaving home to go away to school when she was 15, lured by the prospect of achieving something in track and field. That move somehow led her into boxing, with her original coaches remembering her as a rakish girl arriving in ragged clothes but always with enormous will.
She didn't initially tell her family about the boxing and, even when she did, her father warned her that she might get injured and it could ruin her prospects for marriage. Those fears have been unfounded.
Her husband is among her biggest supporters, something she attributes to being able to remain committed to the sport.
"As a mother, it is very difficult to stay away from my two sons ... But I am glad to have a supporting husband like Onler, who takes care of them in my absence and has been the pillar of my strength," she was recently quoted as saying.
For someone whose aim was just to land a decent job, Mary Kom's success has already exceeded expectations. The state government has given her the grade of an honorary Assistant Superintendent of Police, she has received numerous cash awards over the years and has enough sponsorship and endorsements to support her extended family.
Mary Kom was one of six brand ambassadors for the 2010 Commonwealth Games along with male boxer Vijender Singh despite the fact women's boxing was not on the program in New Delhi. Both were also named as brand ambassadors this month for a leading face cream, a rarity in a country where cricketers hog most endorsements.
At an event in Mumbai to mark the 50-day countdown to the London Games, Mary Kom answered questions about her Olympic campaign in comments reported in the local media.
"It is obvious that people will expect a medal from me," she said. "Also, this is the first time women's boxing is included at Olympics, so I want to create history and make my country proud."
After her tough time at the last world championships, Mary Kom is expecting more of herself in London.
"I was shattered when I lost in the quarterfinals -- My dream of competing in the Olympics almost came to an end," she said. "Winning and losing is part of the game, but I didn't expect that loss to come at such a crucial time. But when I learnt that I have qualified for London, I was blank for a moment. Pressure at the Olympics will be lesser compared with the qualification tournament."
The profile of boxing here has soared since India won a bronze at the 2008 Beijing Olympics, and a few more medals in London might make it the most followed Olympic sport in a country where field hockey has long held that status.
Singh won the medal in the 75-kilogram category and since it came along with another bronze won by Sushil Kumar in wrestling and the country's first ever individual gold through rifle shooter Abhinav Bindra, it also helped up the stake of Olympic disciplines in this medal-starved country of 1.2 billion.
"I feel all eight of our boxers have a realistic chance of winning medals and further boost the sport in the country," Indian Boxing Federation secretary-general Muralidharan Raja told The Associated Press.
Raja hopes any success in London will help promote boxing in India as a fitness sport.
"People could take to boxing as a non-contact sport. It could be instilled at the junior levels to improve health and grace in individuals with athletes only practicing its movements without sparring," he said. "There is tremendous potential for boxing in the country as we will see after the Olympics and we are all ready to tap it."