Indians' bats continue resurgence in 8-7 win over Rays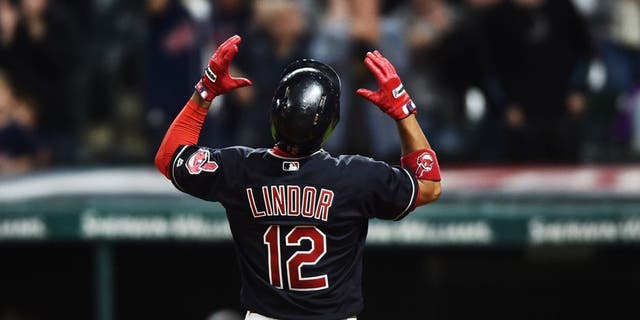 CLEVELAND (AP) -- After Carlos Carrasco left with an injury Monday night, the Indians bullpen managed to close things out.
Cleveland just hopes it doesn't have to cover for the right-hander much longer.
Carrasco exited in the fourth inning because of tightness in his left pectoral muscle, but five relievers kept the lead and helped the Indians hold off the Tampa Bay Rays 8-7.
Carrasco isn't sure if he'll miss a start.
"I don't worry about that," he said. "I'm waiting until tomorrow. We'll see what's going and go from there."
Cleveland's rotation is already missing one pillar, with right-hander Corey Kluber on the disabled list because of a strained lower back.
Carrasco was pulled after a visit by manager Terry Francona following an RBI single to Brad Miller. He allowed five runs in 3 2/3 innings and left with Cleveland ahead 7-4.
"Tito made the right decision to take me out before it got worse," Carrasco said.
"He wasn't letting it go, and it made me start to worry a little bit," Francona said. "We'll certainly look at him more tomorrow. We'll have a much better read."
Boone Logan (1-0), who entered in the fifth, retired both batters he faced. Andrew Miller allowed his first run of the season in the eighth, and Cody Allen gave up a solo homer to Peter Bourjos in the ninth before recording his 10th save.
Lonnie Chisenhall hit a three-run homer when Cleveland scored five times in the first off Chris Archer (3-2). Francisco Lindor added a solo homer in the eighth.
Carrasco was charged with five runs and threw 75 pitches. He was sidelined in spring training with a sore elbow and didn't pitch in last season's playoffs because of a broken right hand after being hit by a line drive in September.
Archer allowed seven runs in five innings. He gave up five hits, walked six, struck out six and threw 101 pitches. Archer is 0-6 lifetime against Cleveland, the only AL team he hasn't defeated.
"I wish I could have given our team more," he said. "The biggest letdown is us putting up seven runs and not winning. Walking six people is unacceptable."
Edwin Encarnacion had an RBI grounder in the first. The slugger, dropped out of the cleanup spot for the first time this season, went 0 for 5 and is now batting .198.
Encarnacion is stuck in an 0-for-17 slump. He hit 42 homers and drove in 127 runs for Toronto last season before signing a $60 million, three-year contract with Cleveland.
Abraham Almonte started the Indians' second with a triple and scored on a throwing error by catcher Derek Norris. Yan Gomes had an RBI double in the third.
Almonte was removed in the fifth with a sore right shoulder, an injury that occurred during an at-bat last week, and will be placed on the disabled list.
Kevin Kiermaier homered for the Rays.
WELCOME BACK
Francona and Rays manager Kevin Cash have been friends for years. Cash played in Boston while Francona managed the Red Sox and was on Cleveland's coaching staff from 2013-14.
Francona likes to play jokes on Cash when Tampa Bay visits Cleveland each season and did so again while the Rays were taking batting practice Monday. Under the headline, "How Bad is Kevin Cash at the plate?" the scoreboard showed Cash's career stats, including a .183 batting average.
NICE GRAB
Logan Morrison leaned into the first base stands in the seventh for Encarnacion's foul ball. Not only did he make the catch, he also ended up with an Indians' cap that a fan tossed toward the ball in his glove. Morrison threw the cap into the stands before heading back to first base.
"I should have just put the hat in my back pocket," he said. "I was just trying to get above them, and when I did, when I went to squeeze the ball I got the hat, too."
TRAINER'S ROOM
Indians: OF Brandon Guyer (sprained left wrist) will miss four to six weeks. He was put on the 10-day DL on Sunday.
UP NEXT
Rays: RHP Jake Odorizzi has allowed one earned run or less in his last five starts.
Indians: RHP Danny Salazar didn't get through three innings despite being given two early leads in his last start against Toronto.