In victory, the 'Bartman' seat legacy lives on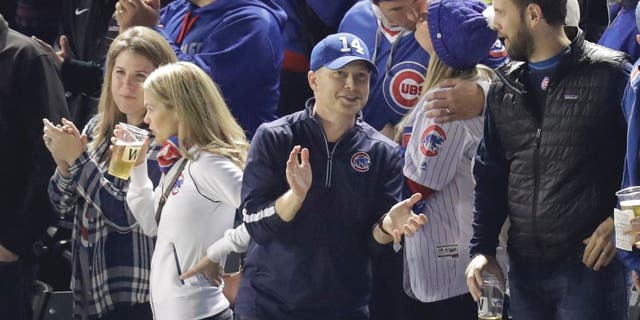 The night should have been one only of celebration and glory. Yet, the specter of Steve Bartman remains at Wrigley Field.
A fan named Bryan, 38, hit it big in the Cubs' ticket lottery. What he didn't realize until he arrived Saturday was that the ticket placed him in Section 4, Row 8, Seat 113, the seat Steve Bartman was in for Game 6 of the 2003 NLCS.
That evening, the Cubs had a 3-0 lead in the eighth inning and were five outs away from a World Series berth. And then this happened:
The Cubs went on to give up eight runs to the Marlins in the eighth, lost Game 6 and then lost Game 7, and Bartman became a goat of a different kind in the second city.
The Chicago Sun-Times caught up with the fan who was in the "Bartman seat" for Game 6 of the 2016 NLCS.
Bryan was not in the ballpark that night, "but I lived in the area and I was aware," he said. "I was still a Tiger fan, to be honest. Now it's Cubs. If a foul ball comes this way, I'm keeping my hands to myself."
A gnarly looking fan in a Cubs hoodie observed the conversation from a few seats over and mistook Bryan's Banks hat for a Dodgers cap. "You reach for a foul ball tonight and we'll come find you," he warned, perhaps kidding, perhaps not.
"No worries," Bryan replied cheerfully. "Let's enjoy the game."
Seems like the friendly confines still harbor ill will toward a seat, of all things.