In matchup of nation's best, Rosen wows with arm ... and maturity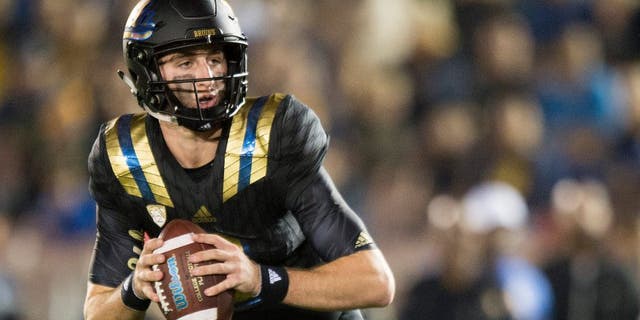 The matchup between arguably the two most gifted quarterback prospects in college football turned into a rout Thursday night. Host UCLA whipped No. 20 Cal, 40-24 in a game that didn't feel that close as true freshman QB Josh Rosen set a school-record with 34 completions while throwing for 399 yards and three TDs for the Bruins. His counterpart, Cal junior Jared Goff, went 32 of 53 for 295 yards and also threw three TDs. Neither QB was picked off, but one of the big differences was Rosen was sacked just once. Goff was taken down five times.
"We got pressure on Rosen, but we didn't do a good job of keeping him hemmed in," Cal coach Sonny Dykes said. "Things we haven't done all year, we did tonight."
Rosen evaded rushers with his deft footwork (which we profiled in this feature on FS1) and made some eye-popping touch throws, torching the Bears D, which came into the game No. 1 in the nation in turnovers gained. Before the third quarter was done, Rosen had gone 33 of 46 for 391 yards and three TDs.
UCLA defensive coordinator Tom Bradley also credited Rosen's back-up, Jerry Neuheisel, for helping focus his teammates' pass rush in the days getting ready for Goff. The Bruins relied on lots of four-man pressure and a variety of line stunts. "You have to be so disciplined in your pass rush," Bradley said, in reference to Goff's ability to move around the pocket. "Thanks to Jerry we got better this week."
Head coach Jim Mora praised his 18-year-old quarterback and said Rosen is a lot like Goff. "He's very mature," Mora said. "He has tremendous poise. He prepares well and he's smart. He trusts the guys around him. He trusts his receivers. And, like all great performers, they are able to let go of what just happened and move on to the next event. Josh has been able to do that now for seven games, in spring ball and in our summer camp. He's a rare kid, just like Goff. They're both very good quarterbacks."
As impressive as Rosen was in his debut, completing 80 percent of his attempts and throwing for 351 yards against Virginia, Mora is pleased with how much his young QB has improved since his first game.
"He doesn't throw those balls back across his body into coverage," Mora said. "He has learned to make better decisions in the open field."
Even though this was only the Bruins' seventh game of the season, Rosen has already smashed Cade McNown's school record for passing yards in a season by a true freshman with 1,967. The old record was 1,698 yards set in 1995.
Rosen, though, isn't big on records or stats.
● Asked how it felt to throw for almost 400 yards: "It feels as good as BYU, when I threw three picks -- it's a win."
● Asked how meaningful it was to win in a matchup with Goff: "It's cool to sit on the sidelines and watch a guy like that, but every game is meaningful."
● Asked how it felt to break UCLA's single-game completion record: "I really don't care," he said, before mentioning his admiration for one of his idols -- Boise State great Kellen Moore and his record for most wins by an FBS quarterback.
Now that's one record Rosen does seem to care about.