In Columbus against Mexico, U.S. men go for fifth straight 'dos a cero' win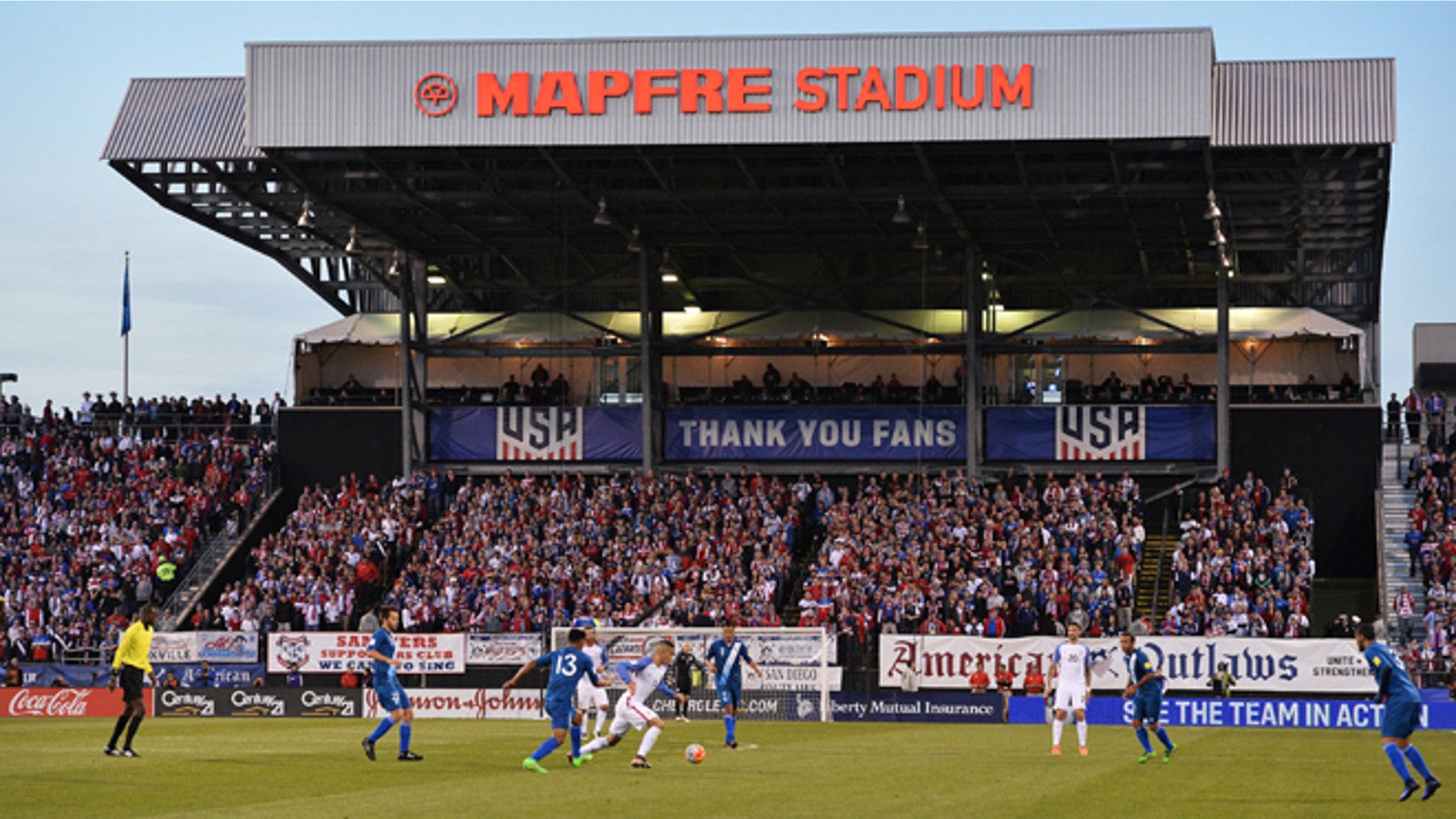 COLUMBUS, Ohio – What concerns the Mexico national team the most about its United States rivals probably isn't the goal-scoring prowess of Jozy Altidore, the midfield leadership of Michael Bradley or the game-saving stops of goalkeeper Tim Howard.
What scares El Tri more than anything else is a bare-bones structure just off Interstate 71 that has been aptly nicknamed the "Erector Set" and is more properly known as Mapfre Stadium.
That's where Team USA and Mexico will tussle yet again in the opening game of the final round of CONCACAF World Cup qualifying Friday night.
Over the past 15 years, the home of Columbus Crew S.C. has become the unlikely site of America's biggest international soccer success – a World Cup qualifying fortress, if you will, that keeps conjuring up the same result:
Dos a cero.
Four times Team USA has hosted Mexico at the soccer ground, and four times the Americans have celebrated with two-to-nothing victories.
It might sound monotonous, but no one who wears a red, white and blue uniform on the soccer pitch has complained, not when a World Cup berth may be at stake.
"Columbus has been great," U.S. center back Omar Gonzalez told reporters. "I played in the last qualifier [for the 2014 World Cup in] Brazil, and the fan base is amazing. Having a majority of the U.S. fans to fill up that stadium is incredible. You don't get that anywhere else you go."
"It's not the biggest stadium," he said. "It's intimate. It's loud. People are close to the pitch. It's going to be great. Friday, we're looking forward to a raucous fan base, and we're ready to go."
Perhaps a little background and history of the dos a cero phenomenon is needed to understand the U.S. domination. In 2001, U.S. Soccer decided to award a World Cup qualifying match to the Ohio capital for two major reasons.
One, it was in the dead of winter on Feb. 28, and the U.S. wanted to freeze out the Mexicans.
And two, they wanted to showcase the Crew's arena, built for a mere $31 million in 1999, as the very first soccer-specific stadium in Major League Soccer.
During the first half of that first game, the U.S. was enduring a nightmare when captain and midfielder Claudio Reyna (groin) and striker Brian McBride (swollen eye) were forced out. In came Josh Wolff, who had all of four games experience with the national team under his belt, and changed the course of the match.
He scored the first goal and set up Earnie Stewart for a late insurance tally for a stunning 2-0 triumph. It was only the third time the Americans had defeated Mexico in a World Cup qualifier (the other two times happened in 1934 and 1980).
Given that unexpected success, another Cup qualifier was scheduled for Columbus in 2005, and another 2-0 result occurred. Ditto 2009 and 2013 (with a crowd of 24,584 jamming into Mapfre for the most recent match).
With Mexico and the U.S. the pre-eminent teams in the CONCACAF, who don't ever face each other until the final Hexagonal phase of qualifying, the game and venue have become legendary must-wins.
"It's not any other game," reserve goalkeeper William Yarborough said. "It's not only a classic rivalry match, it's also the first three points in the Hex."
A thought echoed by Gonzalez. "It's such a big game," he said, "and it's important for us to start on the right foot."
They have certainly come to the right place. The U.S. men's team is unbeaten here (8-0-1), while outscoring its foes 19-1. And game-time temperatures are expected to be in the 40s.
Each side might claim the pressure is greater for its foe, but the U.S. truly must win here because it travels to San Jose, Costa Rica – where the Americans have never won – for another vital qualifying encounter next Tuesday.
An 0-2 start to the Hexagonal would make the USA's pursuit of its eighth consecutive World Cup appearance much more difficult.
"I would just say every single play matters, whether it's a throw-in or a goal kick or a corner kick," center back Matt Besler told reporters. "You have to be tuned in at all times, and you have to give everything you possibly have every second of the match."
Just remember this: Nothing lasts forever. Sooner or later, the Mexicans will score their first goal at MAPFRE, and – do we dare suggest? – draw a match there or even walk out with 3 points.
Perhaps it will occur Friday. Dos a cero is by no means a pre-ordained soccer result, just a legendary one.
"The game on Friday is a totally different story," Yarborough said. "Obviously, people are hooked with those results, but we know that every game is different. And we can't be thinking about that – [we have to focus] on what we have to do."