In Another First, Messi Scores In His 19th Consecutive Game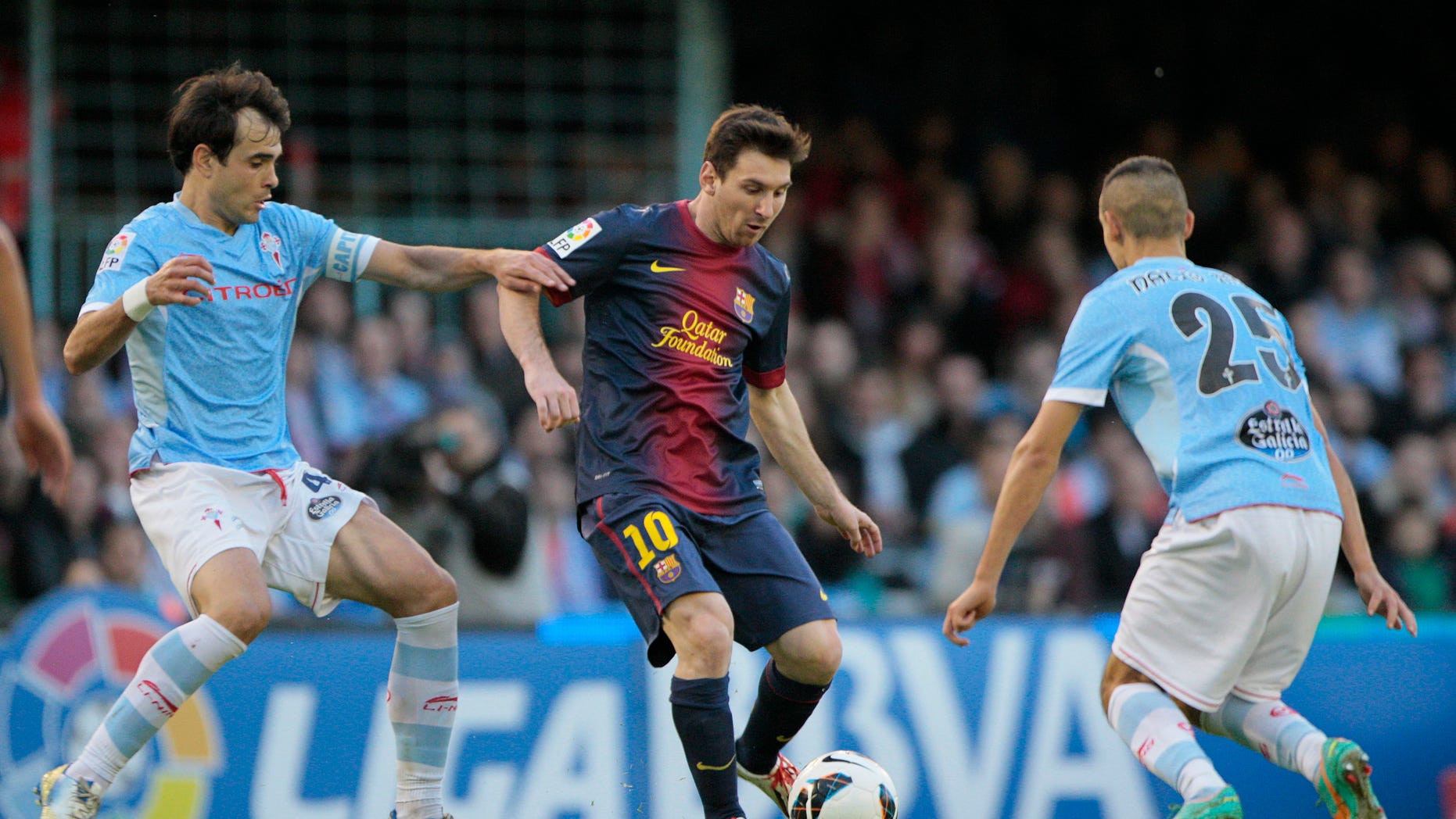 Barca could not hold a one-goal lead and was forced to settle for a 2-2 draw at Celta Vigo in Spain's La Liga, but the Argentine superstar Lionel Messi stole the headlines yet again.
Not surprisingly, Messi played a role in both goals, setting up the first and scoring the second. But, setting a standard that will be difficult to duplicate, he scored in his 19th consecutive game, meaning he had tallied against every La Liga team in succession.
Only Real Madrid's Cristiano Ronaldo had managed to score against every team in a season, but never consecutively.
Messi downplayed his latest remarkable accomplishment.
"The least important thing is the streak," he told reporters. "I was fortunate to score in all those games and help the team to keep on track. But that's not important. We wanted to win after the effort of the squad that were selected but we could not."
Messi created Cristiano Tello's goal in the 43rd minute, which leveled the match at 1-1. He gave Barca the lead in the 73rd with his 43rdgoal of the season before Borja Oubina's 89th-minute header gave the hosts the draw.
"We didn't defend well at the end there," Barca assistant coach Jordi Roura said. "I don't think we had our minds on Tuesday. The league is very important for us."
Barca rested several players, including Xavi Hernandez, Sergio Busquets, David Villa and Andres Iniesta, as the team prepared for itsUEFA Champions League first-leg quarterfinal at Paris Saint-Germain on Tuesday.
The draw kept Barcelona (24-2-3, 75 points) 13 points ahead of second-place Real Madrid (19-5-5, 62), which also played to a tie — a 1-1 deadlock at Real Zaragoza. Cristiano Ronaldo scored for Madrid, which rested several players while looking ahead to its Champions League first-leg encounter with Galatasaray (Turkey) at home on Wednesday.
SPAIN
Radamel Falcao
The Colombian international striker scored for Atletico Madrid yet again, but his team squandered a chance to move into second past Real Madrid with a 1-1 home with Valencia. Falcao beat an offside trap and volleyed home an Arda Turan cross in the sixth minute for his 22nd goal of the season.
Pedro Morales, Willy Caballero
Morales, a Chilean midfielder, enjoyed a memorable match, scoring one goal and setting up two others in visiting Malaga's 3-1 victory over Rayo Vallecano with a goal in the 86th minute. Morales created goals for Welington (heading in a free kick in the 22nd minute) and Julio Baptista (header off a corner kick in the 55th). He put an exclamation point on the game, scoring off a scintillating 25-yard shot. Caballero, an Argentine goalkeeper, was ruled to have tripped Tito in the penalty area, setting up Piti's penalty kick in the 31st minute.
ENGLAND
Carlos Tevez, David Silva
The one-two punch of Tevez and Silva was too much for Newcastle United as Manchester City posted a 4-0 home win. Tevez, an Argentine, tallied in the 41st minute, his 10th goals this season, and Silva, a Spaniard, added the second goal two minutes into first-half stoppage time.
Michu
The Spaniard put home a consolation goal for host Swansea City in its 2-1 defeat to Tottenham. Michu scored his 16th goal of the season in the 71st minute to cut the lead in half.
Santi Cazorla
Cazorla, a Spanish midfielder, scored Arsenal's second goal — his 12th goal this season — in the 48th minute of its 4-1 home victory over Reading.
ITALY
Mariano Julio Izco
Izco, an Argentinean, gave Catania a 1-0 lead in the 50th minute, but the visitors could not hold it, surrendering an own goal and a penalty kick in a 2-1 loss at Lazio.
Mauricio Pinilla, Juan Guillermo Cuardrado
Pinilla, a Chilean, was spot on for Cagliari in the first half of its 2-1 home win over Fiorentina. He scored in the 11th minute and added a39th-minute penalty before Cuadrado, a Colombian, pulled one back for the visitors.
Rodrigo Palacio, Esteban Cambiasso
Both Argentineans played made an impact in Inter Milan's 2-1 home defeat to Juventus. Palacio equalized in the 54th minute and Cambiasso was red carded during stoppage time.
Edinson Cavani
Cavani, a Uruguayan who returned late from World Cup qualifying duty, came off the bench to score not once, but twice in the final six minutes to boost Napoli to a 5-3 away victory at Torino. After Blerim Dzemaili's hat-trick gave the visitors a 3-3 tie, Cavani went into action, not always for the best. He was called for a handball that led to a Torino goal. However, he scored off a beautiful free kick in the 84th minute and an insurance goal six minutes later.
"I said to him that I would give him half an hour, and that I wanted him fresh, because he's been traveling around the world and If I'd have played him from the start then in the second half he would have given up the ghost and I would have had to sub him anyway," Napoli coach Walter Mazzari told Reuters. "I made that choice because other players seem ready. He always wants to play. I explained my intentions and the logic behind it and he accepted it."
GERMANY
Claudio Pizarro
The Peruvian striker was on the mark and then some during an incredible 38-minute span of Bayern Munich's 9-2 home romp over Hamburg SV. Pizarro struck in the 30th, 45th, 53rd and 68th minutes.
FRANCE
Guillermo Ochoa
After seeing very little action in Mexico's scoreless World Cup qualifying draw with the U.S. on Tuesday, the goalkeeper was forced to work overtime and then some in A.C. Ajaccio's 3-2 home loss to Toulouse FC in French Ligue 1. In fact, he almost scored the equalizer in the match. With Ajaccio trying to tie things up, Ochoa's header just missed the target past goalkeeper Ali Ahamada, who himself had scored an 11th-hour equalizer against Rennes earlier this season. Ochoa made four saves.
UNITED STATES
Blas Perez, David Ferreira
Perez enjoyed one memorable week, scoring for country and club. On Tuesday, Perez tallied the insurance goal in Panama's 2-0 World Cup qualifying win over Jamaica. On Thursday, he connected for the lone goal of FC Dallas' 1-0 home triumph over the New England Revolution. Perez, who replaced striker Kenny Cooper in the 64th minute, scored in the 87th minute, putting home a feed from Colombian Ferreira.