Ichiro homered on the first pitch of his final at-bat in Seattle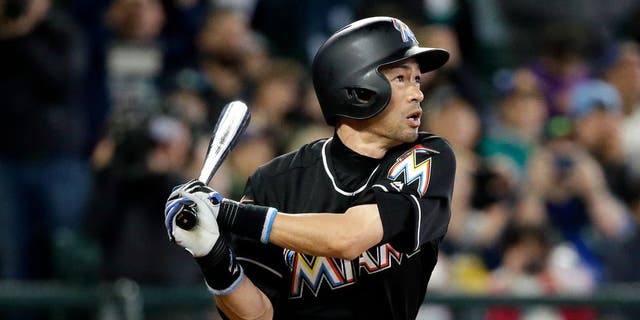 NEWYou can now listen to Fox News articles!
Ichiro Suzuki had a memorable night in Seattle on Wednesday, in what was likely his final game at Safeco Field.
The longtime Mariners and current Miami Marlins outfielder crushed a rare homer to right field in the ninth, during a 10-5 loss to the M's -- in what could have been his last at-bat at his former home ballpark.
Ichiro, who spent nearly 12 seasons with the Mariners, was visibly emotional as he rounded the bases and received a standing ovation from the crowd of 27,147 fans.
It was a movie-like ending to a memorable career for the 43-year-old.
"It was my last at bat, obviously, and the last chance," he said through his interpreter via The Seattle Times. "With the game the way it was going, that's what I wanted to hit, right there. I saw the ball go over the fence and I have to pinch myself to make sure that really happened. I feel grateful that happened."
Even the Marlins dugout marveled in disbelief as their teammate circled the bases for the first time at Safeco since April 18, 2012.
"I was sitting on the bench when he did it, and I go, 'Of course. Of course he does that,'" Miami center fielder Christian Yelich said. "What else would you expect?"
Mariners third baseman Kyle Seager said he got chills when the ball went out of the park.
"That was a pretty special baseball moment. That was bigger than just this game."
It was certainly a special night in Seattle for both M's fans and Ichiro, who was honored with a dual bobblehead and a pregame ceremony prior to first pitch.