How Tom Brady's suspension will actually benefit the New England Patriots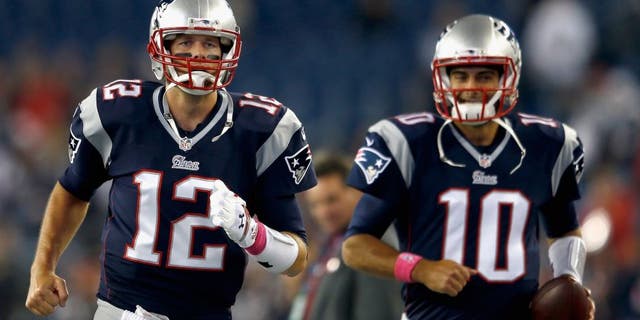 NEWYou can now listen to Fox News articles!
When the New England Patriots and Arizona Cardinals take the field for the first Sunday night game of the 2016 season, it won't be Tom Brady dropping back and slinging the ball around 40 times. Nope, not unless the Supreme Court hears his forthcoming appeal and overrules his four-game suspension to start the year.
Don't get your hopes up, Patriots fans. It's not happening.
So rather than harping on the fact that it's completely unfair for Brady to be suspended for a quarter of the season, prepare yourselves for what's coming next: Jimmy Garoppolo.
The Patriots surprised some when they drafted Garoppolo in the second round of the 2014 draft. But that was before the days of Deflategate and Brady's dragged-out, looming suspension; which has been lifted and handed back down several times. The pick was about finding Brady's heir -- not his replacement.
It seems as though the selection is about to pay off in a huge way at the hands of Touchdown Tom. Brady's suspension is actually going to help the Patriots in the long run, not hurt them. It may sound preposterous, but it's not. here's why.
The Patriots are going to be just fine in the first four weeks of the season. Their only truly challenging opponent are the Cardinals. Besides the red birds, they play the Dolphins, Texans and Bills. New England should have no trouble getting by the Dolphins and their porous defense. The Texans are rebuilding and it will still be early in Brock Osweiler's tenure, as will be the case with rookies Will Fuller, Nick Martin and Braxton Miller. And the Bills are, well, the Bills.
Obviously, the Patriots would love to have Brady for all four games, but they'll go 2-2 at worst. That's more than manageable for a team that has won 10-plus games each year since 2003.
But where New England will benefit most from Brady's suspension is with Garoppolo starting, as absurd as that sounds. The Patriots drafted Garoppolo to possibly someday take over for Brady as the franchise quarterback. Well, now is their chance to find out if they made the right choice. Garoppolo hasn't started a single NFL game in two years in the league. Come this season, he'll start four -- four of the most important games of his life.
There's a good chance Garoppolo remains in New England for the foreseeable future. If he plays well and lights it up week after week, the Patriots will most likely be winning games.
More importantly, they'll find out if they've found Brady's successor. Thanks to Brady's suspension, the Patriots will get their first real look at him in an NFL game. The best-case scenario for the future is that Garoppolo fully grasps the offense and proves he's a solid leader and a starting-caliber quarterback -- similar to the way Osweiler did last season for the Broncos.
There's also a chance he doesn't take over for Brady once No. 12 retires. In that instance, he'll likely be starting for another NFL team after the Patriots trade him. They did the same thing with Ryan Mallett, who wasn't half the talent Garoppolo is. In that trade, the Patriots received a conditional sixth- or seventh-round pick.
If Garoppolo plays extremely well and tosses, say, three touchdowns a game with a passer rating north of 100, what quarterback-needy team wouldn't trade for him if New England made him available? I know one team just south of Foxborough that would (*cough* Jets *cough*).
In either scenario -- taking over as the starter down the road or being traded for picks -- the Patriots win. Even if they lose three of his four starts, so long as he proves to be a viable starter, they come out on top. Of course, there's also the chance that he flops and gets picked off 10 times in four games, but we'll peg that as highly unlikely. After all, New England's offense is a quarterback's best friend.
Had Brady not been suspended, who knows when the Patriots would get a chance to see what Garoppolo could do. It probably would have come in the event that Brady got hurt, which would be far worse than a four-game suspension. At least New England knows when TB12 will be back on the field.
Bill Belichick and the Patriots have Garoppolo under contract through the 2017 season, but since he was taken in the second round, they don't have a fifth-year option to keep him around for an extra season. Instead, they'll have to decide on a long-term deal sooner rather than later, which makes Brady's suspension all the more convenient.
Perhaps Goodell is just trying to help the Patriots uncover their next franchise quarterback in his own unique way ...