Houston Astros phenom Carlos Correa shows maturity in loss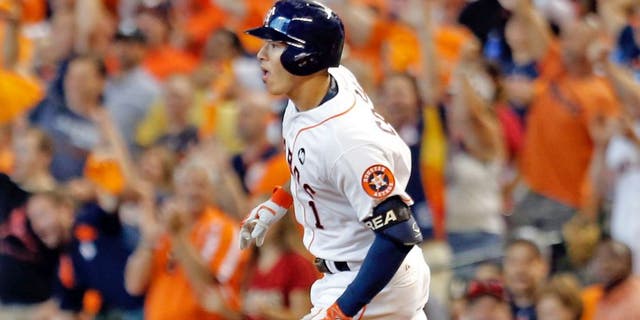 NEWYou can now listen to Fox News articles!
The Houston Astros' season ended Wednesday night, mostly because two days earlier, at home in Game 4, their bullpen was one relief pitcher short.
Maybe that pitcher was Craig Kimbrel or Aroldis Chapman; hours before the July 31 non-waiver trade deadline, the Astros were confident they'd land one of the two. (They didn't.) Or it might've been Pat Neshek, who pitched twice for Houston in the American League Division Series but whose late-season struggles kept him away from the high-leverage situations he was hired to navigate. The Astros' lack of bullpen depth was an accomplice to the Kansas City Royals' thieving of Game 4.
In time, though, the Astros and many baseball fans around the world will view this taut five-game series for what it was: Carlos Correa's grand arrival to the global baseball stage.
Houston's 21-year-old shortstop phenom batted .350 (7-for-20) in the series and on Monday became the youngest player in AL postseason history with a two-homer game. He did it despite being hit by a 97-mph Yordano Ventura fastball in his first at-bat of Game 4, resulting in a left elbow contusion so severe that he couldn't even button his shirt the next morning. And while he made a crucial error as the Astros collapsed in the eighth inning of the same game, even that play underscored what the Astros (and Major League Baseball) have in Correa.
Accountability matters in baseball clubhouses, in ways that can be hard to explain. But the manner in which Correa handled the Game 4 defeat did not escape notice among those around him.
As soon as the Astros' clubhouse opened to reporters late Monday afternoon, Correa was at his locker. Immediately, a thicket of cameras and microphones surrounded him. He patiently answered questions in English, then his native Spanish, then English again, then Spanish again.
When asked about the two home runs, he said only that they were not enough for the Astros to win. When asked about the error, he took responsibility while projecting calm to nearby teammates still absorbing the loss.
He could have focused on how the ball's spin changed twice -- once when it glanced off reliever Tony Sipp's glove, and again as it caromed sharply off the back of the mound. He didn't.
"I just accept that I missed it," he told me at Kauffman Stadium the next day. "I'm not perfect. I was not frustrated or anything like that.
"People say I choked. I didn't choke. You know what? After you hit two home runs, and you have four RBIs, you put your team ahead by three runs, you have the most confidence in the world. You feel like the man. You want the ball hit at you and make a great play and finish your day strong. It wasn't because I was nervous. I wanted the ball hit at me. I wasn't expecting to miss a chopper. But I missed it. It happens. It wasn't meant to be our day."
Correa's parents, Carlos Sr. and Sandybel, watched the series at home in Puerto Rico, and he spoke with them over the phone afterward, and again Tuesday.
"My dad said, 'That's the man I raised. I'm so proud of you. There was no excuses. There was no blaming anybody. That says a lot about you and the way we raised you,'" Correa said. "He's the guy I look up to, so that made me feel really good."
Correa was the No. 1 overall pick in the 2012 MLB draft, the same year he graduated from the Puerto Rico Baseball Academy. Had he enrolled at a U.S. college, this would be the fall of his senior year. Ask yourself how many undergraduates would have such composure after making a mistake viewed by millions of people.
Correa understands what he represents in a multilingual and multicultural league that is working to strengthen Puerto Rico's talent pipeline and plans to host regular-season games in San Juan next year. He took the initiative to arrange a meeting with MLB commissioner Rob Manfred earlier this year to discuss the next steps in nurturing Puerto Rican baseball.
Correa even appointed himself an unofficial recruiter for Puerto Rico's 2017 World Baseball Classic team, saying he'll lobby players like Jake Arrieta, Marcus Stroman, Nolan Arenado and George Springer, who are eligible to play for Puerto Rico or the U.S. "George is going to play for us," a grinning Correa said of his Astros teammate.
Correa went 0 for 3 in the Astros' Game 5 loss Wednesday night. He was on deck when their season ended. But he has shown that he gets it, and the grace with which he carried himself during a brief turn in the October spotlight ensured that one ground ball won't be the lasting image of his 2015 season.