Holly Holm open to return to featherweight after controversial title fight defeat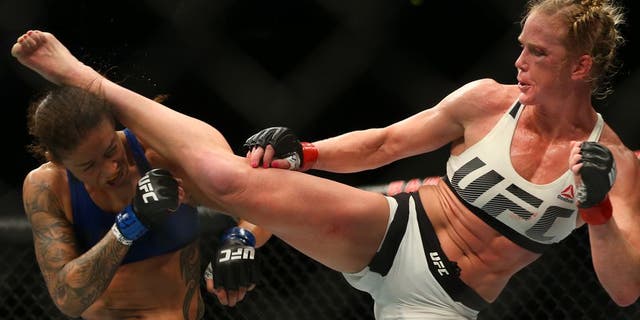 NEWYou can now listen to Fox News articles!
Holly Holm didn't exactly plan on a career fighting at featherweight in the UFC, but when the opportunity was offered for her to compete for the inaugural title at 145 pounds she was quick to accept.
Holm faced Germaine de Randamie to crown the first ever women's featherweight champion back in February at UFC 208.
After five hard fought rounds, Holm ultimately fell to de Randamie by decision, but the end didn't come without some controversy. Not only did Holm believe she did enough to earn the victory based on the judges' scoring, but arguably de Randamie's most damaging punches both came after the final bell had sounded in two separate rounds.
Of course, the sour taste of that defeat still lingers as Holm prepares for her return to action this weekend in a bantamweight bout against Bethe Correia in Singapore, but she also refuses to make excuses for why she came up short that night.
Holm isn't pointing the finger at de Randamie for being a dirty fighter or believing that the judges just got the score wrong. Instead, Holm finds fault in her own performance and hopes to correct those mistakes going forward.
Since that fight between Holm and de Randamie, the featherweight division has sat in limbo with the UFC not signing anymore fighters to compete there not to mention the situation with the current reigning champion.
Just recently, de Randamie flat out refused to fight top ranked featherweight contender Cris "Cyborg" Justino amidst allegations from the champion that she's been using performance-enhancing drugs throughout her career. Add to that, de Randamie even went as far as saying that she hoped to return to 135-pounds for her next fight, which means the featherweight title would be left in purgatory with no sign that it will ever be defended.
Despite those obstacles, Holm says she's still willing to fight at featherweight again because her mission at 145-pounds was to win the title and that didn't happen.
"I kind of feel like I'm just going to take it one fight at a time," Holm said. "For me, I'm kind of bummed to not get that title, that belt in my last fight. It's kind of like where is the division even going at this point anyway? So I'm glad to be able to be having an opportunity to fight right now. Who knows what would be happening if I didn't have this one in front of me. I'm happy with the opportunity and I'm excited to fight at 135 or 145 [pounds] no matter what."
Jeff Bottari/Zuffa LLC/Zuffa LLC via Getty Images
Just to put an exclamation point on her statement, Holm doubled down by confirming that if she was offered another fight at featherweight, it's an opportunity she would accept.
"Absolutely [I would fight at 145 again]," Holm said.
More than anything, Holm just wants to get back on track after suffering three consecutive losses in the UFC.
Of course, Holm has only been facing elite competition during her recent run in the UFC, but ultimately she's still facing down three straight defeats and she refuses to accept a fourth.
"I still know that I'm competitive with all these girls. I know that I have the ability to be able to rise to the occasion and beat these girls," Holm said. "I'm just sticking with the positive mindset and I'm going to enjoy my job as I do it."