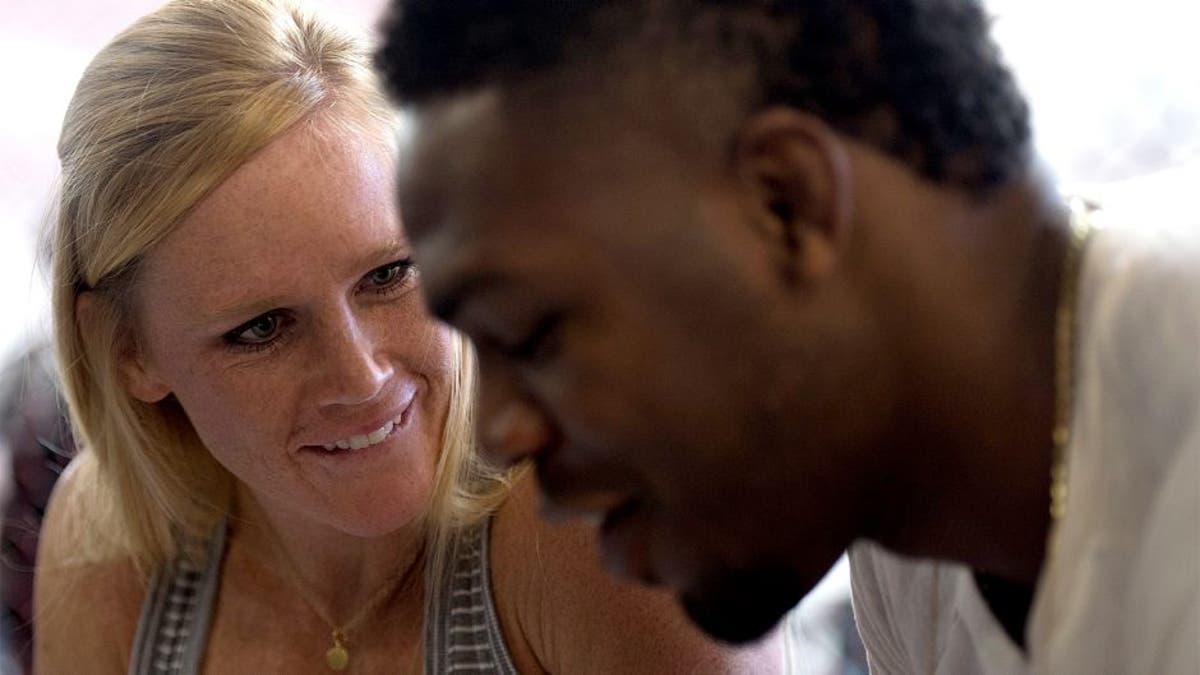 ALBUQUERQUE, NM - OCTOBER 31: (L-R) Holly Holm and Jon Jones sign autographs for fans during the Jackson Wink MMA Academy Grand Opening at Jackson's Mixed Martial Arts & Fitness on October 31, 2015 in Albuquerque, New Mexico. (Photo by Brandon Magnus/Zuffa LLC/Zuffa LLC via Getty Images) Brandon Magnus/Zuffa LLC
Holly Holm has a lot going against her as she prepares to face Ronda Rousey at UFC 193 next weekend, but luckily she has everything she could possibly need to get ready, including advice from arguably one of the greatest champions of all time.
Holm has trained for her entire career at the Jackson-Winkeljohn fight team alongside pound-for-pound king Jon Jones, who has been a training partner and mentor in many ways as the former boxer forged a new career as a mixed martial artist.
Holm has spoken several times in the past about the influence Jones has had on her style and approach to fighting, but as she approaches the biggest matchup of her career, he's gone above and beyond to ensure that she's ready for what lies ahead.
"We have the same team and I love to hear his input because he's obviously been able to take what our coaches teach and put it together perfectly," Holm said about Jones when speaking on a media conference call ahead of UFC 193.
"I love to hear his input on it and he has been very helpful and very instrumental in this fight camp, a lot of things that sometimes he'll just brainstorm on that works really well for me, he's been great, been a great help."
While Holm admits that Jones isn't exactly the right size to serve as her sparring partner, he will often times attend her training sessions and offer advice that could be valuable when facing someone as dangerous as Rousey in the Octagon.
"There's been times where he might even just come to my mitt session and have some ideas on things that he feels works with my fighting style and just ideas that he has. He's got a very, very good mind about fighting and I always appreciate his advice," Holm said.
Beyond Jones' influence, Holm has a benefit most fighters who have faced Rousey never had -- a championship coaching staff with proven credentials to get her ready for battle.
Rousey has taken on a laundry list of top fighters during her day, but Holm happens to train under coaches like Greg Jackson and Mike Winkeljohn, who have had a hand in no less than 11 fighters currently ranked in the top 10 of the UFC, not to mention at least four former champions in the promotion as well.
Jackson, Winkeljohn and the rest of their coaching staff, including striking coach Brandon Gibson, have put together a winning formula like few gyms worldwide and they hope to hand a healthy dose of that championship attitude to Holm when she faces Rousey on Nov. 14 in Melbourne, Australia.
"Having such great coaching and having such great teammates and having that, that sense of accomplishment and that champion mindset is huge. I love it; I'm blessed to have it," Holm said. "These guys are champions because they perform, but they have the help of the best coaching in the world. And so it all goes together.
"You can have all the best coaching in the world, but if you don't have a fighter that wants to get in there and make something of it it's the missing link. And if you have a fighter that wants it but doesn't have the right guidance then there's a missing link. So we have it all at the gym. The best coaches, the best training partners, and the best advice, and that means a lot.
In a strange way, Holm says working around so many top fighters can actually be a little intimidating because everyone surrounding her is at an elite level. Holm is preparing for her own title fight but her teammates Carlos Condit and Donald "Cowboy" Cerrone both have the same opportunity coming up in December and January while others like Jones and Andrei Arlovski hope to be in those same situations in 2016 as well.
A watchful eye ultimately makes Holm even more conscious about everything she's doing right and wrong in the gym as she strives for perfection alongside her teammates. That pursuit to be the best could be a key element when Holm faces Rousey with the title on the line.
"Sometimes it's overwhelming because they're all actually, they're watching sparring and our gym is very busy. We'll have 20 and 60 people training at the same time, you have these champions watching over you sparring. It's like, oh man, it's like a test all the time, but I like it because it makes it real," Holm said.
"It makes the fight real, and I like that they're watching. It makes me want to perform right, and I love having the coaches really over me because I want to do what they're teaching me. I want to perform, so it's awesome being part of it."