Holder, Sun Devils down Cal Poly with hot second half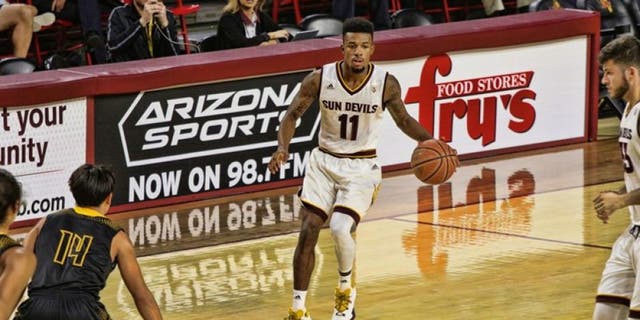 TEMPE, Ariz. -- Tra Holder scored 24 points, Obinna Oleka added 17 points and 13 rebounds and Arizona State beat Cal Poly 96-74 on Sunday night.
The Sun Devils (2-0) outscored the Mustangs by 57-36 in the second half after a tight first half.
Torian Graham scored 12 of his 18 points in the second half as ASU made 18 of 30 (60 percent) of their second-half shots after a spotty first half.
Kyle Toth made 5 of 8 from 3-point range and led Cal Poly with 21 points. Josh Martin added 17 points.
The Mustangs (0-2) led by as many as five points early in the second half, 48-43 on a Jaylen Shead driving layup against three defenders with 16:26 to play. The Sun Devils then went on a 10-3 run to take the lead and never trailed again.
ASU led by as many as 25. Shannon Evans II sank two free throws to make the score 74-62 with 6:41 to play, and went 12 for 12 from the line and finished with 20 points for the Sun Devils.
Cal Poly trailed by as many as 10 points in the first half before rallying to tie the score at 36 on Martin's reverse layup with 3:02 left in the half. The Mustangs took a 38-36 lead on their next possession, as Martin threw down a dunk off Ridge Shipley's assist.
ASU went the last 5:21 of the first half without a field goal and led 39-38 at halftime only because Holder made one of two free throws with 44 seconds to go before Cal Poly let the shot clock expire at the other end.
Cal Poly shot 50 percent from the field in the first half, including 7 of 17 from 3-point range. ASU made five fewer shots, going 10 for 25 in the first 20 minutes to help keep the Mustangs in the game.
Holder scored 23 points in a win over Portland State on Friday.
BIG PICTURE
Cal Poly: After losses to a pair of Division I programs, including Pepperdine on Friday, the Mustangs get a shot at their first win of the season with their next two games at home against lower-division teams. Cal Poly faces California State-Dominguez Hills and Bethesda this week. Since joining Division I for the 1994-95 season, the Mustangs are 34-1 against non-Division I programs.
Arizona State: The Sun Devils got wins in their first two games, now they will be tested. ASU will travel 12,900 miles for games and sleep in a hotel 11 of 25 nights between Nov. 16 and Dec. 10.
UP NEXT
Cal Poly seeks its first win Thursday in its home opener against CSU-Dominguez Hills.
Arizona State hits the road for its first trip of the season and takes on Northern Iowa on Thursday in Orlando.