Heritage spotlight focuses brightly on Bourque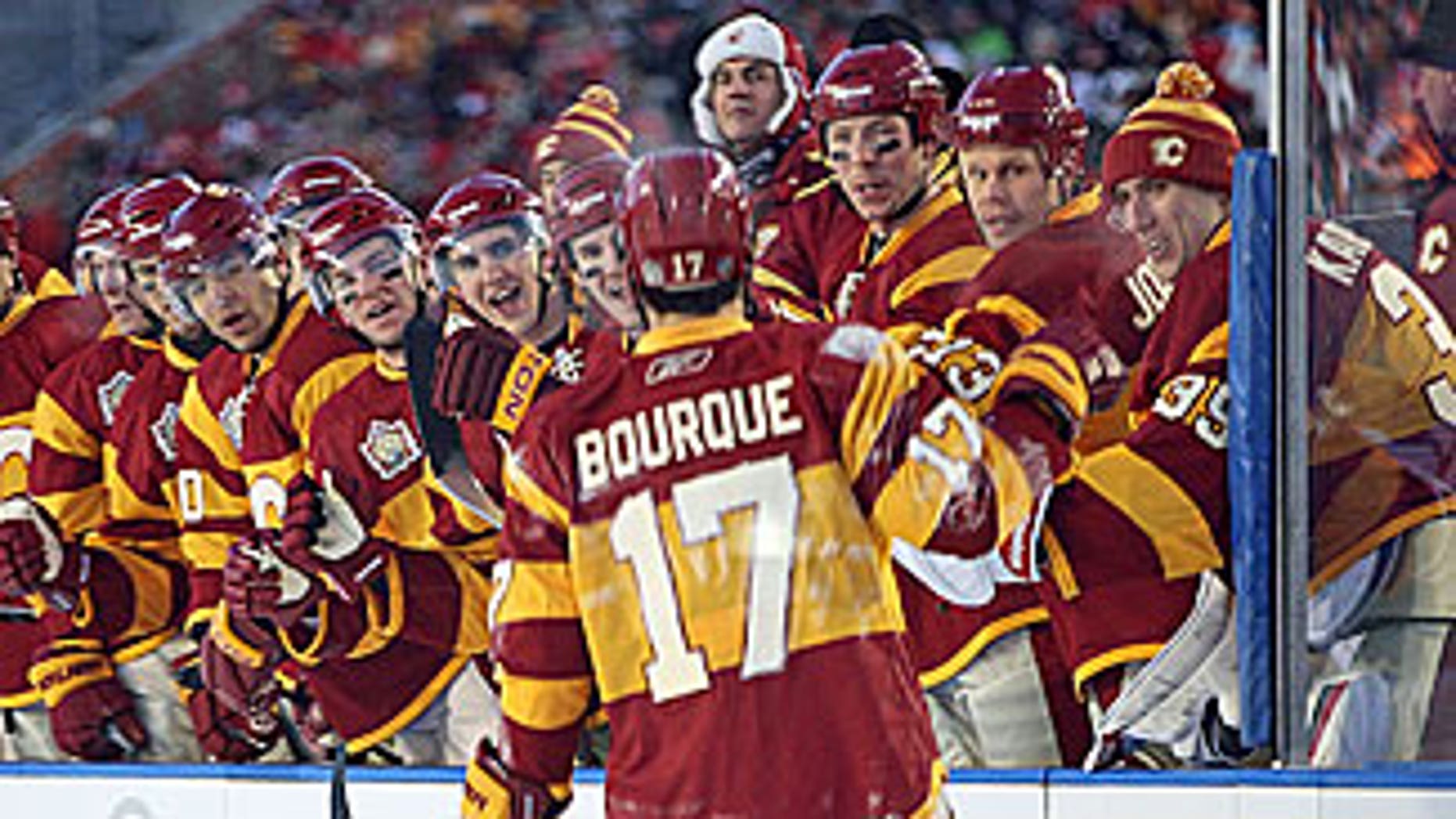 CALGARY -- Rene Bourque didn't waste any time at all heating up in the chill of McMahon Stadium at the 2011 Tim Horton's NHL Heritage Classic on Sunday.
Bourque scored two goals to lead the Calgary Flames to a 4-0 win against the Montreal Canadiens, and he could have --probably should have -- had one or two more goals. Bourque had six shots on goal in the first period alone and a total of 11 in the game.
His 11 shots is a record for the six NHL games played outdoors, eclipsing the former standard of seven, held jointly by Pavel Datsyuk of the Detroit Red Wings and Kris Letang of the Pittsburgh Penguins.
"That was the most shots I've had, probably in my career," Bourque said. "For some reason, the puck just kept coming to me on the left side.
"Tangs (Alex Tanguay) made a great play on the first goal; then I got a lucky break on the second one where I got that bouncing puck and was able to go five-hole."
Bourque, 29, is a native of Alberta's Lac La Biche, and no stranger to pond hockey with a bite in the air, scored his 18th goal of the season to open the scoring at 8:09 when he re-directed a Tanguay pass behind Carey Price on a power play.
Less than six minutes in, Bourque fired a high shot from the top of the circles that Price got a shoulder on. The other notable chance among his half-dozen cracks at Price came not long before his goal. Bourque snapped a shot from the side of the net that Price also gloved.
"He's been playing really well," Calgary captain Jarome Iginla said of the left winger. "The first goal was a big goal, just to get some momentum at home at the end of the 5-on-3. His second goal was a great power move. That took a lot of wind out of their sails, I think."
Bourque, who'd scored just two goals in his previous 14 games, got his second of the game 12:44 into the second period. Bad ice and all, he drove hard to the net and finished a forehand-to-backhand move with a tuck behind Price to make it 3-0.
As an added bonus, it was goal No. 100 of his career,
"I think it's right up there with playing your first game and scoring your first goal, things like that," Bourque said of his performance in front of 41,022 fans.
"It's just fun to be a part of this and play in front of these people, especially when you're sitting on the bench and you're looking out and seeing 40,000 people. It's cold outside, but they're cheering loud and having a good time.
"The first goal happened so fast. I kind of got to enjoy the second one more. I knew I was going to get an opportunity to go in and get a good chance."