Here are my good-for-nothing predictions for your team, you vultures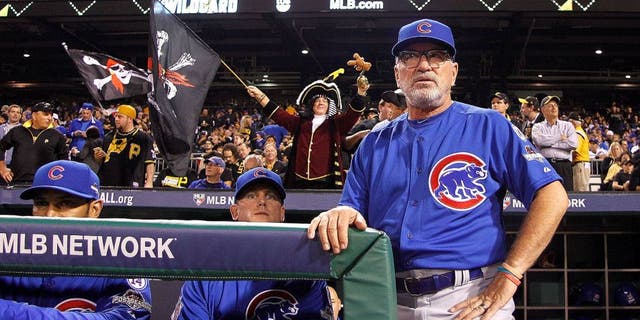 Predictions, predictions, everyone wants to hear my predictions.
Actually, no one wants to hear them -- or at least, no one should. My own father ridicules me, pointing at my picks, calling me "expert" and then doubling over in laughter.
Well, I can guarantee you one thing this season. As any of my devoted followers on Twitter can attest, I will hate all 30 teams -- and YOUR team more than any other.
With that, here are my rankings and comments, which were written with my tongue firmly in cheek, not that I expect the angry masses to understand.
30. Reds. Trade of Votto to Blue Jays cements No. 1 pick in draft.
29. Braves. Trades of Freeman, Aybar, Inciarte and Teheran fail to cement No. 1 pick in draft.
28. Phillies. Prospects break out; Amaro first former GM to be named Executive of Year.
27. Brewers. Braun reacts to trade of Lucroy by expressing willingness to be moved; industry yawns.
26. Padres. Near-riot erupts at Petco when Preller trades Tyson Ross in middle of All-Star appearance.
25. Rockies. Tulo returns to Coors with Blue Jays in late June, gets booed, pulls hamstring.
24. Twins. Sano 50 home runs, negative-50 defensive runs saved.
23. Orioles. Machado jokes that he can pitch every fifth day; Showalter declares him No. 1 starter.
22. Angels. Trout, after reaching career highs with 52 homers and a 1.056 OPS, again finishes second in MVP voting ... this time to Rougned Odor.
21. Athletics. Beane disrupts surprising run by trading Gray to Red Sox, then re-acquires Cespedes and Donaldson and asks, "Is everyone happy now?"
20. Marlins. Mattingly, Bonds resign when Loria orders benching of Stanton; team president Samson takes over as manager; Fernandez goes on hunger strike.
19. White Sox. Drake LaRoche rejoins team at All-Star break; Adam stays home.
18. Red Sox. Hanley and Pablo win Gold Gloves and Sox rotation still finishes 13th in the AL in ERA.
17. Mariners. Dipoto, Servais deny holding grudge against Scioscia and Angels after lining up King Felix to pitch against the Halos at home ... in mid-May.
16. Tigers. Ilitch brings back Leyland to replace Ausmus, but team falls short when Cabrera, VMart, Verlander and six others suffer injuries in September.
15. Rays. Owner Sternberg spotted at French class in St. Petersburg, sparking new rumors of move to Montreal.
14. Yankees. A-Rod declines FOX offer to return as analyst during playoffs, saying he's still mulling whether to retire after 2017 season.
13. Diamondbacks. Stewart, La Russa trade another top pick at deadline, but team fades after Braves' Swanson delivers crushing homer off Miller in late August.
12. Giants. Returns of Lincecum, Uribe, Scutaro, Zito and Huff cannot prevent expiration of even-year magic.
11. Pirates. Trade pickup James Shields stumbles in decisive Game No. 162, then says in exasperation, "Wait, I thought these guys didn't want to play in the wild-card game!"
10. Cardinals. Matheny punches Maddon in jaw after Cubs manager offers hug during September exchange of lineup cards, saying, "Embrace the target, Mikey!"
9. Indians. Swisher, Bourn return to "Brohio," start wild-card game for injury-ravaged club; Kluber loses 0-0 shutout when highest popup of season, per Statcast, falls between the two outfielders.
8. Royals. Escobar goes 0-for-23 during the Division Series; Yost says he might consider new leadoff man for 2017.
7. Dodgers. Team president Friedman, reacting to a series of injuries down the stretch, buys Cuba to fortify team with major-league-ready replacements.
6. Astros. Carlos Gomez gets showered with debris at Fenway during 56-second home-run trot. Says he was only paying tribute to Big Papi.
5. Mets. Boras shuts down Harvey on Sept. 1 due to renewed bladder problems stemming from team restrictions on pitcher's bathroom visits.
4. Blue Jays. Bautista goes .280/.380/.520, then trots out three scientists to declare that his body is the equivalent of a 25-year-old's.
3. Nationals. Dusty botches Game 7 of NLCS with a series of ill-conceived bunts and failed pitching maneuvers; Brian Kenny's head explodes on MLB Network.
2. Rangers. Desmond wins Gold Glove in center field, then returns to Nationals as $150M free agent.
1. Cubs. Theo announces candidacy for Presidency during champagne celebration -- and becomes immediate front-runner just days before election.