Haren says he hasn't held up his end of the bargain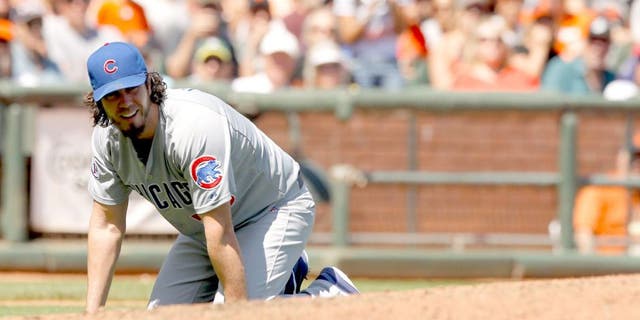 The Chicago Cubs didn't get one of the coveted pitching prizes at the trade deadline, instead settling for savvy veteran right-hander Dan Haren. So far it hasn't panned out.
"I've got to be better," Haren told reporters after the Giants tagged him and handed the Cubs a 9-1 loss to lose the series Thursday night.
The Cubs hoped Haren could bolster the back end of the rotation, a problem area for much of the season. But he's only added to the woe, falling to 1-2 with a 6.31 ERA in five starts. Before being traded by the Miami Marlins, Haren was 7-7 with a 3.42 ERA in 21 starts.
Haren was thrilled to join the Cubs for one last chance at pitching in October. He has said he's likely headed for retirement after the season. If he doesn't pick up the pace, he might not get that October chance.
"I feel worse about it than anybody," Haren told reporters regarding his performances so far. "But we've got games left. And I can either whine and complain and feel sorry for myself or just move on and try to be better the next time.
"I'll do anything for this team. I just want to win."
(h/t Chicago Sun-Times)